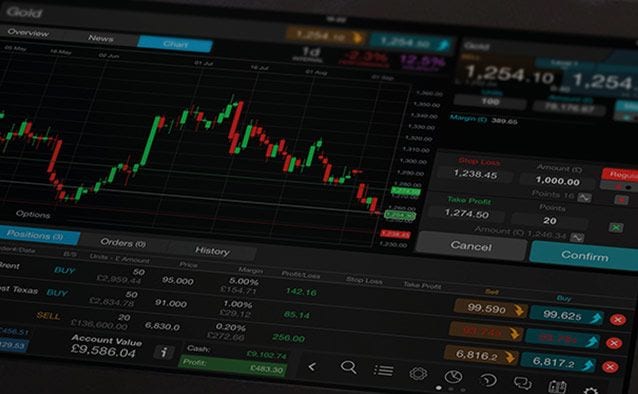 Last week,  I posted a blog looking at the case for a rally to 5400 in the ASX 200 index. As it happened, while the set ups didn't trigger, the market was slammed back in the opposite direction, making the post look poorly timed to say the least.
My Trading Rules
Every body will have their own rules about this situation. Mine is to apply a one shot only rule. If  a trade is actually entered and stopped out for a loss, my rule is to walk away from that market situation and not to trade it again. This means I have to deal with the fear of missing out. Applying this rule means plenty of times where the market goes on to do exactly what I thought but after I've been stopped out.
However the benefit of the one stop rule is a risk management one. I don't want to get caught falling in love with a situation. Having say two or three losses about the same buy or sell opportunity effectively means doubling or tripling my original loss potential for that market situation. Markets create plenty of opportunities. I'd prefer to move onto other situations and take a fresh look at them.
When it comes to setups that don't trigger, my rule is the opposite. If the original strategy doesn't set up but the market hangs around the same zone, I will keep it on my watch list looking for possible setups. The danger here is increased fear of loss because your first trading idea didn't trigger. However, if you haven't entered a trade already you are not doubling up in terms of risk management. Adopting the approach of going with the flow of the market and mechanically applying you trading rules even if they didn't initially set up, might yet provide another opportunity
Australia 200
The post last week involved buy setups based on a Bollinger Band strategy in Commonwealth Bank and Fibonacci retracement strategies for National Australia Bank and the ASX 200. I discussed an entry strategy of waiting for a close above the previous day's high to confirm a trend change. This didn't happen. Not only that, the banks were slammed later in the day. This meant there was no trend change at all and that day's candle turned out to be a large engulfing candle with a close well below the previous day.
While the index did move lower, it wasn't dealt with so harshly and has so far stayed in the general zone it was at around last week's post. Ironically, it has been assisted in this by mining and other stocks not the so much the banks that I discussed last week.
In the previous post I also mentioned how the Australia 200 and ASX 200 index can often compliment each other, confirming or highlighting different opportunities. This is because levels are sometimes a bit different due to the fact that the Australia 200 trades over night and not just while the stock market is open
Again ironically, it is now the Australia 200 more than the ASX 200  I discussed last week, that looks as though it might trigger a buy set up today. The daily chart is showing signs of rejecting the 61.8% retracement level. Any trend low here will be well above the lower Bollinger Band (blue line) while the last one was well below it. This scenario of falling downward momentum off a Fibonacci retracement level could set up for a rally.
As with last week, many traders will want to wait for confirmation. This might be in the form of a close to the current candle that is above yesterday's high (this won't be know until tomorrow morning). Another alterantive might be a stop entry buy order well clear of yesterday's high.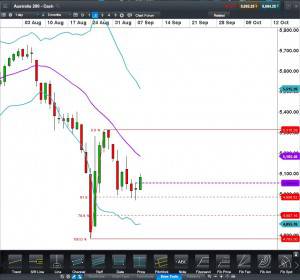 Australia 200 CFD Daily
Click to Enlarge