The index and major bank share charts point to the possibility that this morning's rally is the start of something bigger
ASX 200 chart
The ASX 200 and Australia 200 CFD charts occasionally have different levels. This is  due to the fact that CFD's and futures trade overnight whereas the index itself is only about the actual stock market hours between 10am and 4pm. This is neither a good nor a bad thing. In fact I find it very useful because it can often help identify situations that are not so obvious in one or other of the charts.
In this case the CFD chart made a much lower low in overnight trading on Monday last week than the index itself. I've used the actual index chart below because it more neatly demonstrates what I want to draw attention to.
This is that the market has bounced neatly off the 78.6% Fibonacci retracement level. Yesterday's hammer candle (very long wick and small body near the top of the candle) points to the possibility of ongoing upward momentum. A move to the resistance of the last major lows around 5400 would not surprise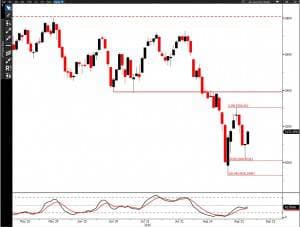 ASX 200 Daily
Source: Bloomberg
CBA chart
It may not be the end of the selloff but a lot of stock charts are now showing signs of being ripe for at least a corrective pop.
This morning's rally leaves yesterday's candle on the CBA chart as a trend low. This was made well above the lower Bollinger Band (pale blue band). It implies much weaker downward momentum than the previous trend low which was the last in a series of candles that extended well below the lower Bollinger Band. That indicated very strong deviation from the mean.
This declining momentum scenario could set up for a pop to the middle Bollinger Band (20 day moving average) or beyond. The 20 day moving average currently intersects around $78.80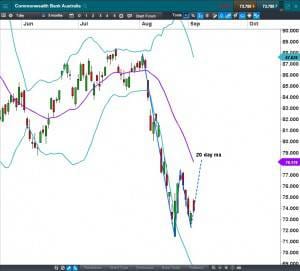 CBA CFD Daily
Click to Enlarge
NAB chart
All the major bank stocks have potentially short term bullish aspect to their charts it seems to me. In NAB's case, last Tuesday's low at $29.40 neatly completed an AB=CD pattern. However this was done with a very big green candle that closed a long way above the low. Depending on your strategy, this can make it difficult to get set before the horse bolts.
One strategy for this situation is to wait for a possible retracement to enter. As with the index, yesterday's low looks like a candidate for this. It bounced neatly off the 78.6% Fibonacci retracement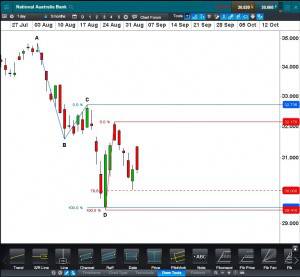 NAB CFD Daily
Waiting for confirmation
As I write this blog, these markets are back peddling after a strong open. One entry strategy often used is to wait for some certainty that there will be a daily close above yesterday's high. This provides a bit more comfort that the current short term uptrend will not be a one candle wonder