Earlier this week, we highlighted a recurring pattern in the Australia 200 index, pointing to lower levels. Local investors are focusing on negatives and ignoring supportive news, and the market is looking at its largest single day fall this year. How low can it go?
Strong selling is now underway, following this morning's news that US President Obama has authorised air strikes in Iraq. The RBA revising down inflation and GDP growth prospects in its quarterly monetary policy statement this morning didn't help.
Strong trade data from China, and Rio's overnight report that showed profits at the high end of estimates, are largely ignored in trading today. Negative momentum is increasing: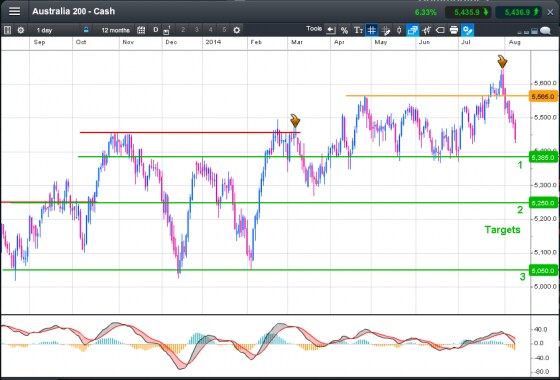 The MACD gap is widening, and is now crossing the zero line, suggesting selling pressure is growing rather than easing. The chart shows the potential down side targets, and it looks like the index could reach target 1 at 5,385 in the next few trading days.
There is a reasonable chance this level could hold. Established earlier this year, it has held the market since April.  A period of "basing" behaviour here would offer hope to investors who did not take advantage of low volatility to hedge their portfolios near the post GFC highs.
However, a fall through this level may point to a full blown correction. Targets 2 and 3, at 5250 and 5050 would then come into play. A 10% fall from the highs at 5644 would take the market to 5080 - or very close to target 3. Barring an outbreak of a ground war in Ukraine or the Middle East (or similar geo-political event), the fundamentals of modest Australian GDP growth and reasonable company profit profiles are against a more extreme correction.