Last week's sell off took the Australia 200 Index almost 400 points (around 7%) below recent highs. Is the market in value territory yet? Is it time to buy the dip?
The chart says no.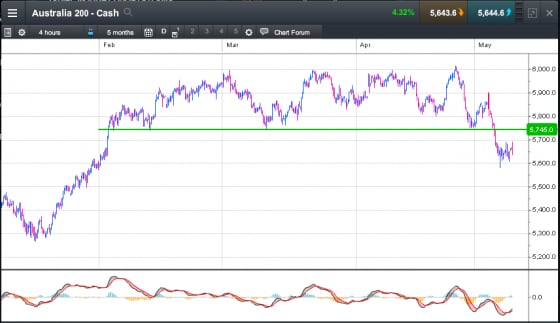 Admittedly, the MACD has turned and crossed well below the zero line, potentially giving a buy signal.  Positive leads from European and US share markets on Friday night, PBoC stimulus and higher commodity prices, could mean a short term rally is on the cards. There is potential for a quick 100 point rally to the resistance around 5745 - so why not buy?
Day traders may well buy. But  anyone with a longer time frame, or a nose for trouble, may hesitate. 5745 is now a key level. It's likely bears will watch very closely if the index approaches that point, selling below 5745 with stop loss orders above.
After last week's disappointing earnings reports, there is potential for substantial selling in banks on any rally. Financials comprise 46.5% of the index value, meaning this could be the sector that drives the market lower, despite support for resource stocks.
This gives me three potential trades, depending on market action. I'll sell any rally below 5745, with a stop above that point, and I'll sell any move down through the recent low at 5606. If the market trades up through 5745, I become a buyer. But at the moment, I'm neither a buyer or a seller.
How about you?