Normally, I wouldn't be in the office at this time of year - and if I was, I'd be watching test match cricket. But not this year, as there's too much market action. Despite a drop off in trading volumes last week (finally!), volatility remains elevated. Trading between Christmas and New Year is normally very subdued, but this year is shaping up as a possible exception.
The chart illustrates the point: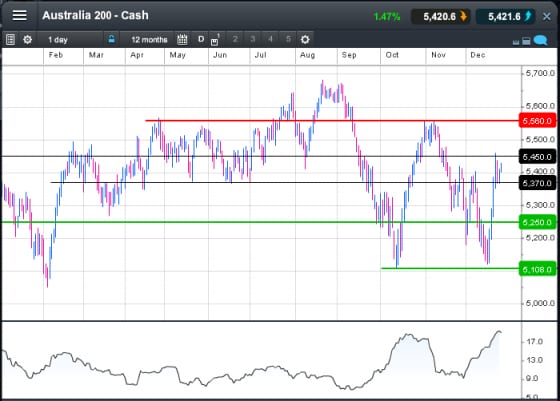 The 20 day volatility (bottom of chart) has jumped the peak seen during the October sell down. This puts monthly volatility at its highest level since July 2013 - unusual at this time of year.
At the moment the index is trading the zone between 5370 and 5450 (black lines). The 61.8% retracement of the Nov-Dec fall is just below 5400, so a break outside these two points could be the start of a short term trend. Trading has started quietly this morning, but traders may do well to stay on alert for significant moves, especially if either boundary of the inner zone is broken.