There are a lot of disappointed bulls in the market today. After solid bounces in European and US share markets on Friday night, many locals were looking for similar moves at this morning's open. Instead, the market opened in the red and slid further, falling 1% before finding any footing. What happened?
Two factors appeared to overwhelm positive investor expectations. First, graphic scenes of street unrest in Hong Kong over the weekend rattled markets. China's importance to the health of the global economy mean any disruptive action is bad news for Australian shares. This may also be the key driver of a more than 50 point fall in Dow futures (US 30 Index) this morning.
The other factor is the weakening AUD. If international investors fear further falls, they may cut their Australian share holdings. This looks like a factor in play today, as the previously popular financials and consumer staples stocks drag the market down.
How low can it go?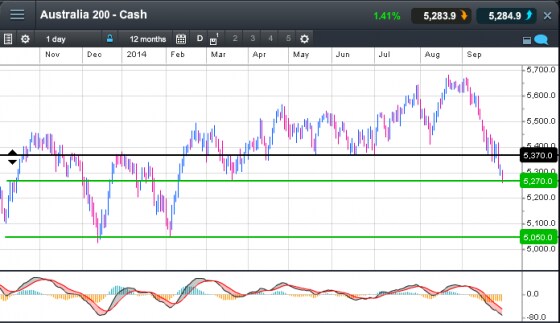 The chart shows the bounce off (minor) support at 5270 in trading today. However, just as we saw at 5370, the index may do work around the support level before cracking through. The danger is evident - a fall through 5270 brings the major support at 5050 into view.
Of course, trading back up through 5370 would change the outlook, and possibly bring a test of the post-GFC highs. The widening MACD suggests this may be some time off yet.