Back from a break, I'm taking a leaf from my colleague Ric Spooner's book, and starting with the big picture - weekly and daily charts. The message is worrying. Despite an overall positive outlook for the Australian economy, aided by last week's interest rate friendly inflation data, the technical big picture is sobering for bulls.
Starting with the weekly chart: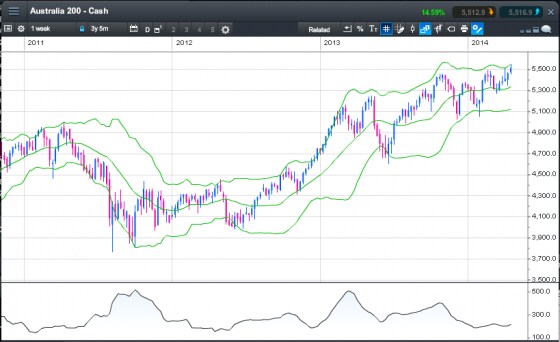 The index reached post GFC highs last week. However, this took it through the top Bollinger Band, where it quickly reverted - suggesting a potential move back towards the moving average just above 5,300. The bands widened slightly, so the signal is not entirely clear cut, but the danger is obvious.
Turning to the daily chart: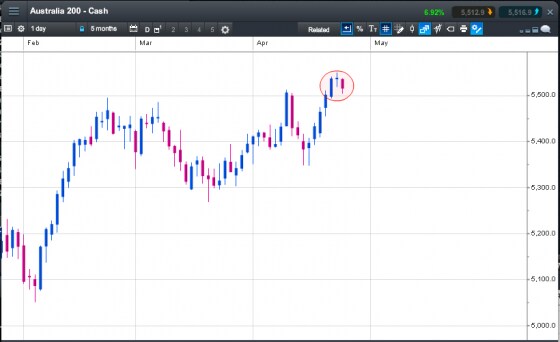 The circled formation is close to an "evening star". This is a reversal signal as well. Although ideally the middle "doji" (or star) would stand clear of the up and down candles on either side, it has the hallmarks of a reversal. A strong up day, a day of indecision, and a strong down day.
The week ahead brings a number of potential sell triggering events. US ISM, housing and jobs numbers, and an FOMC meeting. Australian credit and trade data. Potential for further selling of high-multiple US tech stocks, and possible deterioration in the Ukraine. While I can't at this stage state what the trigger will be, the charts are sounding a clear short term warning for investors and traders.