The best conditions for a "Santa Claus rally" are know in place - no-one expects it. Expectations were dashed as tumbling oil prices and growth fears overwhelmed optimism. The data drip drys up this week, and the charts are pointing to a potential pleasant surprise for investors. And there is now a line in the sand at 5108.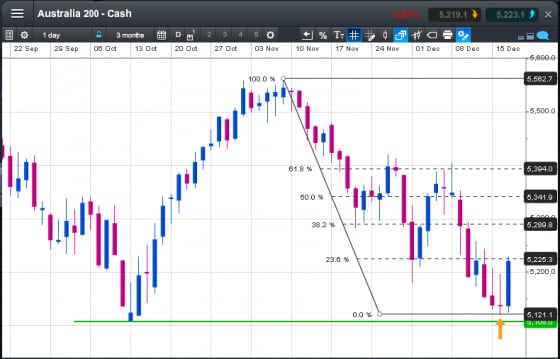 A doji (yellow arrow) at the support level is often  a trend reversal signal. Some may have felt comfortable buying at these levels as there is "heavy traffic" between 4950 and 5050 - meaning any further falls could be cushioned. Whether a trend change here is a corrective move, or the start of something bigger, is yet to be determined. However, even a standard 61.8% retracement gives a target just below 5400.
Today is likely the last liquid trading day of the year, as futures expire this morning and options this afternoon. Most of the largest traders and investors will take advantage of this high level of market interest to reshape their portfolios and set their sails for the first half of January. This could mean control of the market passes back to individual investors - the majority of whom are natural bulls.