Overnight action in shares and commodities suggest the worst of the China fears are receding. Although the Chinese share market is largely insulated from international investors, and responds more to policy changes than economic fundamentals, many outside China took the sell off as a signal of a worsening economic situation.
After eight (!) responses from central authorities since late June, and further moves from government associated enterprises, markets have stabilised. Overnight, WTI oil rose, and industrial metals surged by 2-3%. While the bears are still wondering, alert investors and traders may take advantage of any upcoming rally today. Here's the overall market picture: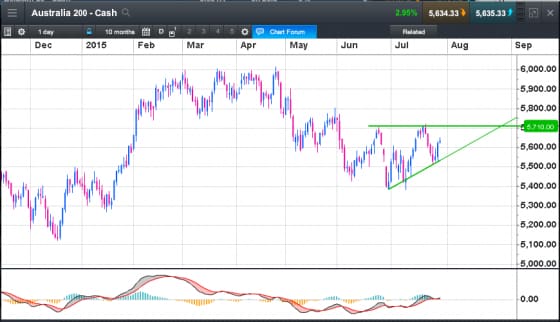 The MACD has crossed and simultaneously moved above the zero line. The emerging triangle formation may give technical traders the basis of a trade, particularly if the index moves above previous resistance at 5710.
Naturally, fundamental traders may already be long the market.
For mine, the market needs to clear the zone between 5710 and 5750. The 5750 level has served as both support and resistance, and I'd interpret any move above this point as a clear sign atht the market will test the 6000 ceiling over the coming weeks and months.