Company results season is in full swing. A feature so far is stocks reporting broadly in line with recent share price moves, but failing to go on with it. Today, investors sold the fact in Seek Ltd, having bought in the lead up. Similarly, Coca Cola reported an at best modest result, but it's share price rose. These sorts of moves have implications for the index, given its positioning at post-GFC highs.
CBA fell  more than its dividend value in trading today, dropping $3.46 versus the franked value of the dividend at $2.81. International investors have supported the market recently, on the back of a lower AUD. A rising currency is now a direct threat to the health of the market.
In the past month, the Australia 200 index is up 11%. in my view, this leaves it vulnerable to a correction, and a set up is unfolding: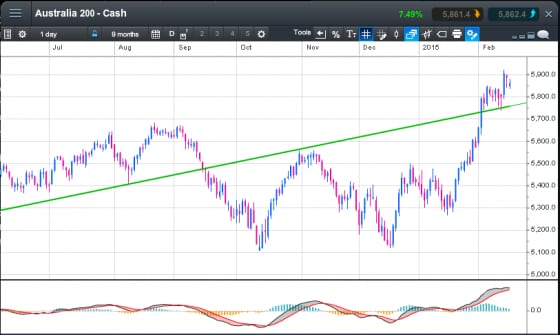 The  MACD is narrowing, with a potential downward cross well above the zero line -  considered a stronger sell signal. The green line is the long term up trend that started in mid 2012. The recent rally has reconnected with that trend, but a fall below the trend level around 5780, combined with a MACD cross, could point to a significant downdraft.