After last week's very popular seminars presented by Larry Pesavento,  we will begin providing material from Larry to  help readers learn about the kinds of patterns he uses as they apply to current charts. In the meantime though, I thought I'd share this interpretation of the monthly chart of the Australia 200 Index which, I had the opportunity to discuss with Larry before he left last week. He described the long term Australia 200 as being spot on as an example of a potential Gartley pattern
Australia 20o Gartley Pattern - Monthly Chart
A key feature of the Australia 200 chart pattern shown below is that if the peak in August holds, it will mean that the  swing from C to D will be the same size as the swing from A up to B. In other words AB=CD. In this case, after the big X/A decline, a  completed Gartley pattern means potential for lower prices from the peak at D. So far so good.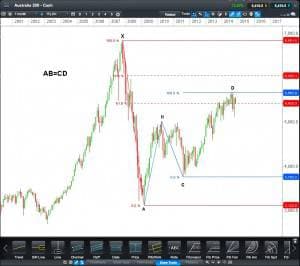 Australia 200 CFD Weekly
Click to Enlarge
Australia 200 Daily
Against the big picture background shown on the monthly chart, the rally that peaked on 7 November has the potential to be a correction against a deeper move lower. The 7 November peak represented a 78.6% Fibonacci retracement of the initial swing down from the peak at "D". That would be consistent with an ongoing move lower. Time will tell.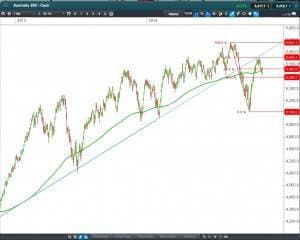 Australia 200 CFD - Daily