Friday's solid US employment data indicates an economy well into a moderate economic recovery cycle. This contrasts with recent data from both Australia and China and provides some insight into the soft opening by both the Australian Dollar and the share market this morning.
In technical terms, today's relatively flat opening leaves the S&P/Australia index within its recent trading range.
For swing traders, using an hourly chart there looks to be interesting resistance at around 4230 and above that at 4255 with a potential for an ABC correction sell set up from around these levels if price rallies to but then rejects the resistance over the next day or two
.
The US has created an average of around 200,000 jobs per month over the past 6 months and has achieved year on year payroll growth of 1.5%.  In Australia, average job growth over the past 6 months has been close to zero.
The US is starting from a much deeper recession than either Australian or China but appears to be at a different stage of its current economic cycle.
Having brought inflation under control at least for the short term, both Australia and China appear to be in the relatively early stages of a monetary easing cycle. Whilst it's tempting to focus to on the benefits of lower interest rates in these situations, they tend to be outweighed by market concerns over weakening economic activity. Saturday's weaker than anticipated export, industrial production and retail sales figures for February are a case in point. This creates some uncertainty for the near term revenue outlook of Australian resource stocks.
Daily Chart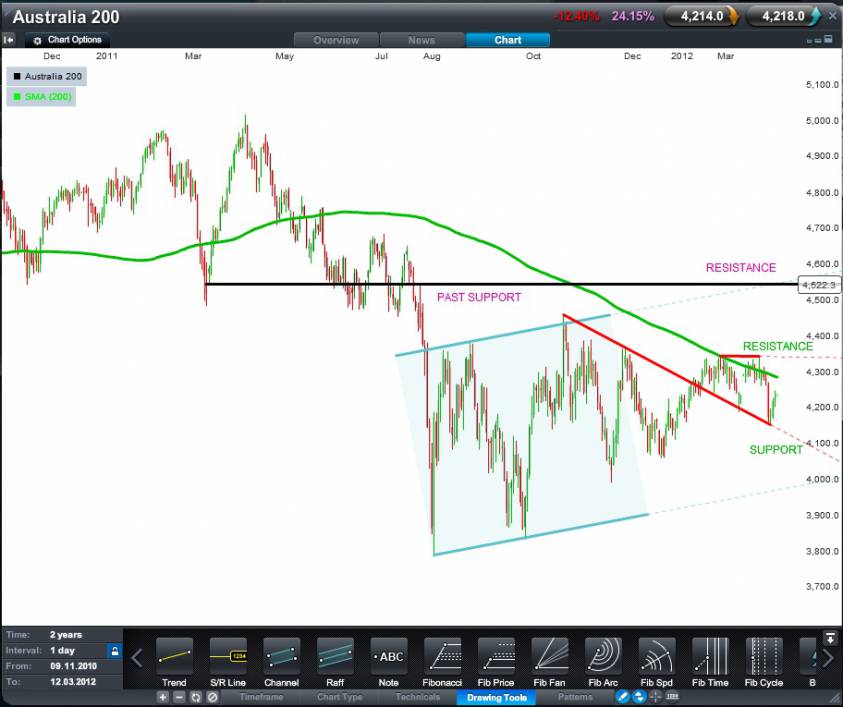 The first chart above is the daily. No change to the long term picture here. We are drifting broadly sideways in the centre of the large blue trend channel.
More recently, we have established a broadening pattern shown by the red trend lines. The support line is the well now well established and, as so often happens, started life as a resistance line. This support currently intersects at around 4110.
The resistance area for this pattern is horizontal and consists of the 2 peaks at about 4310. Under that the 200 period moving average has recently done a good job of holding this market. A clear break of the 4310 area may set us up for a test of blue channel resistance at around 4520.
Hourly Chart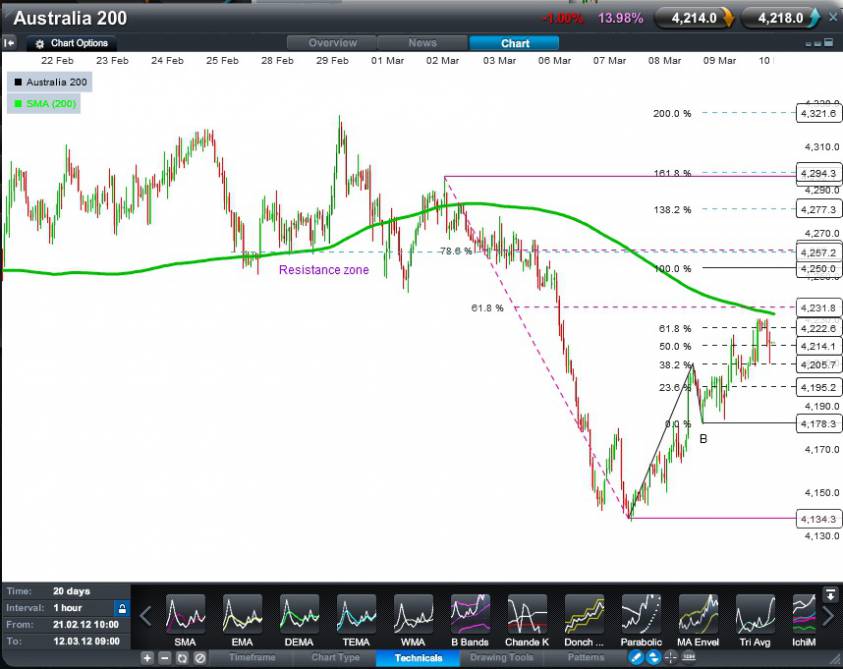 The hourly chart above focuses on the decline since the last test of the 4315 resistance.
For swing traders, there look to be 2 potentially interesting resistance areas in this chart. The first is at around 4230. This represents a 61.8% retracement of the swing down from 4294. As you can see the 200 period moving average (green line) also intersects at around this level.
The 2nd resistance is up around 4250/4255. This is the 78.6% retracement level. This also projects that the swing up from 'B" will be the same size (100%) of the last swing up. I have used the Fib Price tool to project this level. Interestingly, this level also coincides with the last major resistance zone.
If price was to rally to one of these levels and then fail by making a trend peak at that level, this would look like the end of a potential ABC correction. Many traders would look upon this as a shorting opportunity with potential for a decline perhaps to the 4110 support. If there is a set up, I'll post a follow up with a discussion on trading strategy.
Cheers
Ric