The 200 index has under performed international indices recently. The performance of stocks like the banks and big supermarkets looks like a big part of the reason for this.
Three of the big banks are now ex dividend and this often attracts selling by investors who hold until after they become entitled to the dividend. However, other major "yield stocks" have also come off the top. This suggests some investors may be starting to think in terms of rates having bottomed and an eventual tightening by the RBA.
This has brought both CBA and the index to interesting support levels. These look like supports that could trigger further momentum selling if breached.
Even so, patience may by the best policy here.  Shallow corrections have been the order of the day in recent times with yield chasing buyers lurking and looking to pounce. So a significant breach of support is no certainty. As usual with break out trading it's a matter of going with the flow and responding only if the break out occurs.
CBA Head and Shoulder Support
I've included  CBA's forward Price Earnings chart to begin with. This highlights that forward PE's  have returned to levels not far below the peak of the 2007 bull market. Things are different now of course. Interest rates are  lower so logically stock yields can be lower and PE levels higher than in 2007. But the bank's earnings growth is also lower and if your mindset is that interest rates will return to more normal levels from here, then current PE levels are beginning to look potentially close to the top of the range.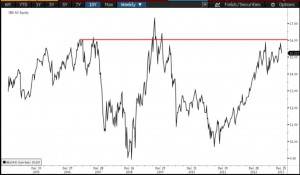 CBA forward price earnings. Source: Bloomberg
The big picture weekly chart shows CBA well above it's trend line and 40 week (200 day moving average) which are tracking along together. The stochastic is also overbought. So from a technical point of view there's scope to revert to a mean level if short term supports are broken.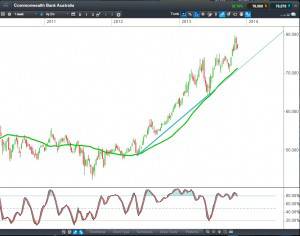 CBA CFD Weekly
When it comes to the daily chart, CBA is testing the support of a possible head and shoulders neck line today.  The head and shoulder is not complete unless the neck line is breached and it often pays to be a bit patient waiting for a move well clear of it to cut down the risk of  false starts.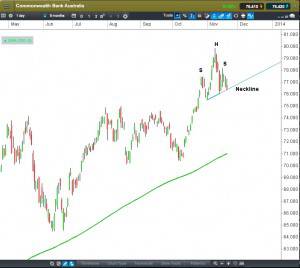 CBA CFD Daily
Australia 200 support
Today's low has quite a bit going for it as significant support level -
the trend line,

the 50 day moving average and

the previous resistance (dashed line).
There could be a couple of possibilities here. One could easily be a short term rally as price rejects the trend line for the 3rd time. The other could be a break below the CBA neck line with the banks leading a break below supports for the whole index.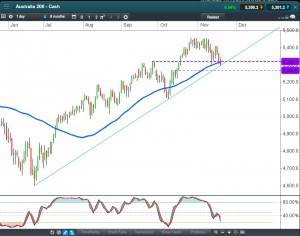 Australia 200 CFD Daily Support Levels. Click to enlarge