This post is not about the State of Origin, it's about an approach to trading. So if you are from NSW, you can keep reading
Australia 200 volatility
Much has been written about the recent low volatility in stock indices. Corrections have been shallow. Low interest rates have made investors being quick to pounce on minor pullbacks. Up trends on the other hand, have been a hard grind. Overall valuations are full and there's a bit to worry about. In recent days the index has drifted sideways caught between the pincer of low rates and the unfolding situation in Iraq
Stock charts
Over the past couple of months, I have been struck by the number of really nice trending charts for individual stocks within the 200 index. While it's been a low momentum slog for the index itself, this is not certainly not the case for many of the stocks that underlie it.
Much of the share market action at the moment centres around investors switching between stocks as valuations fluctuate
Trading Strategy
This situation feeds into one of my core views as at trader. This is that traders (especially those using technical analysis) can get a lot of benefit from being prepared to apply their strategies across  a range of asset classes and instruments. I know a lot of clients do precisely the opposite and only trade one instrument
Maybe the current situation is one where medium term index traders who use technical analysis could think of broadening their horizons by trading some of the individual stocks in the Australia 200
Stock to Watch Set-ups
One of the features of stock charts at the moment is that it's not all a one way street. There are plenty of long established up trends and down trends in place
Three of my recent stock to watch posts illustrate this
Commonwealth Bank - Selling on break of trend channel
I last posted on this chart on 28 May . Since then price hit the support; made a partial pullback into the body of the channel and is now testing the support again. Partial pullbacks like this are often seen as increasing the possibility of a break below channel support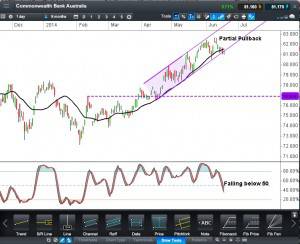 CBA CFD - Daily
Click to Enlarge
BHP - rally from exhaustion gap
I outlined some thoughts on the BHP chart in  yesterday's stock post
Flight Centre - rally from exhaustion gap
Flight Centre is in a similar situation to BHP. I posted on that this morning
Tying it all together with trading strategy
For investors or stock  traders, rotation is a typical strategic approach to this situation i.e selling CBA and buying BHP and/or Flight Centre
CFD traders might do the same thing via a pairs trade i.e shorting CBA and going long BHP and/or Flight Centre at the same time
Either way, using the " equivalent value" approach is common e.g Sell $20,000 worth of CBA and at the same time buy $10,000 worth of both BHP and Flight Centre. Traders who think Flight Centre has already rallied too far today might confine the pair to CBA and BHP
Using equivalent value,  the pairs trade will work if the value of CBA falls by more or rises by less than the other 2 stocks. In the ideal scenario CBA will fall and the other 2 will rise.
Of course the trader will lose money if the value of CBA rises by more or falls by less than the other 2. In the worst of all worlds, CBA will rise while the other 2 stocks fall
There are all sorts of different ways of approaching trading strategy for this scenario. Here are a few alternatives
Technical traders may be prepared to look upon the whole thing as 3 separate trades. They might enter all 3 positions at the same time but have separate stop loss and profit targets for each of the positions according to their normal rules. Using this approach it's highly likely the positions will not be closed at the same time leaving the trader net long or short. As position traders they would be prepared to do this anyway

A typical pairs approach would be to get into and out of all positions at the same time. Here the trader might have notional profit targets and stop losses based on dollar values

A compromise approach is to close the pairs position if any of the individual stocks reach technical stop loss or profit objective e.g if CBA hits one of the levels it is bought to close while BHP and FLT are also sold to close. If either BHP or FLT hit their level they are sold and half the CBA position is bought at the same time