The overnight close on Australia 200  CFDs suggests another grim day for the Australian share market. The opening call could easily be right but how bank shares trade today could be worth watching.
CBA
CBA put in quite a strong reversal yesterday off the first of the potential supports I outlined in Monday's post, How Far will the Australia 200 fall? Unless CBA moves clearly under Tuesday's low, a rejection of this support zone is still a possibility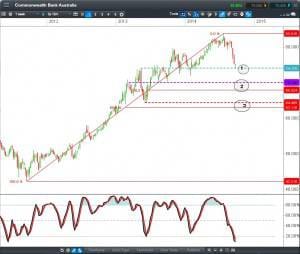 CBA CFD Weekly
Click to Enlarge
NAB
The Nab chart is also interestingly placed. Price flicked through the support of a potential triangle formation but it's not unusual for the 5th test of a triangle to make a small false start. If this support does end up being rejected it could signal potential for a return to the triangle resistance or a break above it.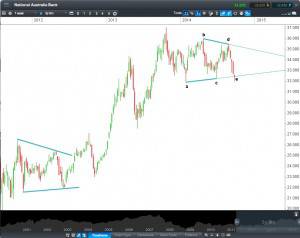 NAB CFD Weekly
Australia 200 Index
The index still has strong downward momentum. However, if bank stocks hold the line here, the index  itself could start to stall (at least temporarily) around the support represented by the May 2013 peak. Time will tell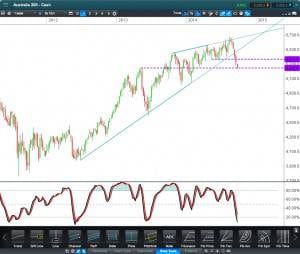 Australia 200 CFD Weekly