After a big session last night, the Aussie Dollar looks as though it has kicked off a significant corrective rally with a bang.
Looking across the Aussie currency pairs this morning for buy set ups, AUD: CHF caught my eye as a situation where it may not be too late to use an entry based on a logical chart based situation with stop loss and profit strategies based on similar logic
 4 Hour Chart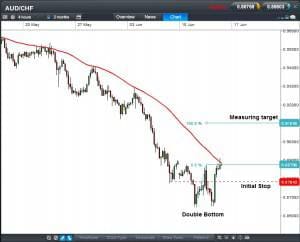 AUD:CHF CFD
Click to Enlarge
A common entry strategy for double bottom formations like the one on this chart is to buy when price breaks above the peak between the double lows.
As I write, AUD: CHF has failed to do this convincingly. The potential significance of this level gets extra weight from the fact that the 50 period moving average is at the same level.
Based on this situation, one approach to entry strategy would be to buy if a candle closes above the 50 period moving average.
The initial stop loss shown on the chart is place behind a support level back in the body of the double bottom formation allowing some scope for a corrective "re-test" once a rally gets under way.
The measuring target projects the height of the double bottom formation from the peak or "break out" point between the 2 lows.
Many traders would also use a technique for beginning to trail the stop higher once the rally gets well underway in a strategy like this.