Michael McCarthy and I have written a combined piece this morning on potential  opportunities in the Aussie Dollar.
While AUD: USD has been under considerable selling pressure, the Aussie has held up relatively well against some of the cross rates.  There remains considerable room for a decent downward move in these pairs if a weaker than expected China/commodity scenario unfolds from here.
In the chart below, I discuss potential strategy for a Head and Shoulders Set up in AUD: JPY while Michael outlines levels for AUD: USD
AUDJPY - 4 Hour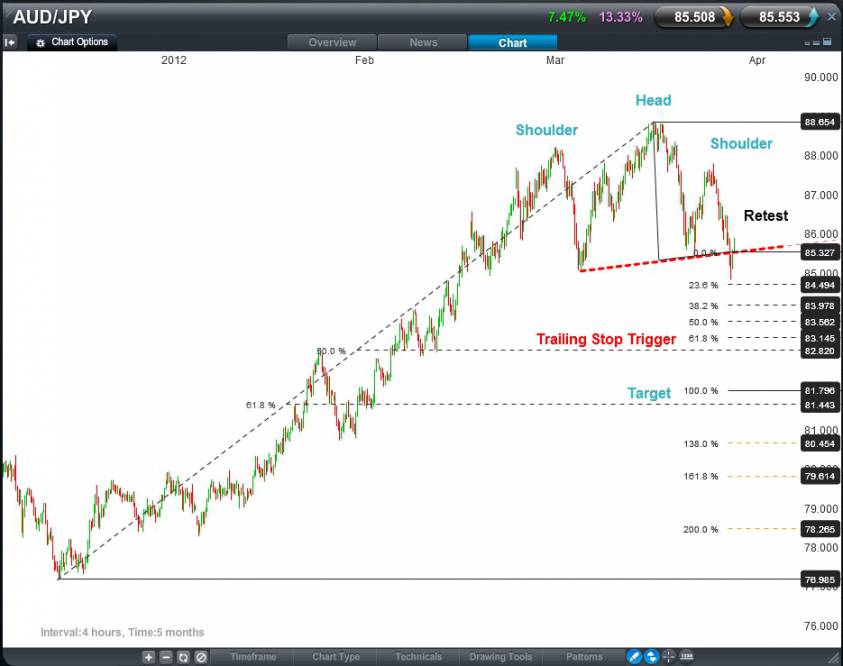 Price broke below the neck line of this Head and Shoulder Pattern last night but has now rallied back above it.
This sets us up for a possible "retest". This is a situation where, after an initial break out, there is a correction back into the pattern before falling away again. Once this happens there is usually an improved chance of a significant trend reversal.
A typical retest entry strategy would be to sell if price breaks below the neck line again while the initial stop would be placed just behind the highest point of the retest rally.
To maintain a reasonable risk: reward profile on this set up the retest rally should not move higher than the existing right shoulder.
The profit target on the chart projects the height of the head and shoulders pattern from the point on the neck line where the initial break occurred. This forms a cluster with the 61.8% retracement of the last major swing up.
Once price gets to 61.8% of the distance from the break to the profit objective, this strategy switches to a trailing stop.
AUDUSD - Daily
Sell AUD/USD
The outlook for the AUD/USD appears bearish. Speculation around an interest rate cut, and weaker commodity prices due to concerns about Chinese growth prospects, are weighing on the pair.
The daily chart from the Tracker platform clearly illustrates a downtrend: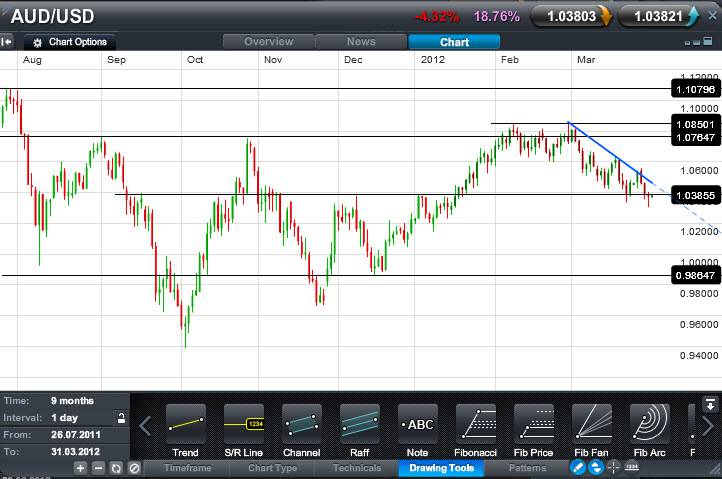 The good news from a trader's point of view is the support/resistance line just above the current price at 1.0387. This gives a clear stop loss level for any short trades. The issue becomes "what is the target?".
An initial level could be 1.0250 – the AUD/USD has done a lot of work at this level. However, the daily chart suggests on a "big picture view" that the target could be as low as 0.9865. There are a number of possible trade set-ups:
SELL AUD/USD at current prices, stop loss above 1.0387, target 1.0255
SELL AUD/USD at current prices, stop loss above 1.0410, target 0.9875
SELL AUD/USD at current prices, stop loss above 1.0387, trailing stop loss at 33 points.