The Bank of International Settlements has released its 3 yearly survey on FX turnover.
I've posted a few highlights and a link to the BIS report  for traders interested in a quick snapshot of how the markets they trade fit together
Here are some of the highlights from the survey conducted in April this year
Average daily forex turnover was $5.3tn dollars up 33% on 3 years ago

The $US was involved in  one side of 87% of all transactions.  This is up from 85% 3 years ago. No sign of the greenback losing its status as the world's reserve currency at this stage

The Euro lost ground. It remains the 2nd most traded currency but was involved in only 33% of transactions down from 39% 3 years ago.

The Aussie Dollar punches well above its weight ranking 5th in the turnover league and involved in 8.6% of all transactions.  AUD: USD is the 4th most traded pair accounting for 6.8% of all transactions.
FX turnover by Currency and Currency Pairs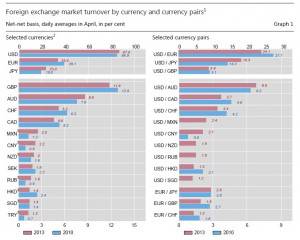 FX market turnover
Source : BIS
Summary of Bank for International Settlements Report