Many technical analysts have been waiting a long time for the Aussie chart to return to its long term triangle support. Last night was the night. What happens from here could set the medium term outlook for Aussie.
Two Fundamental Scenarios
Last week's break below key support around $1.015 has divided opinion on the Aussie's long term prospects. For months financial markets commentary on the Aussie seemed consistently bullish, but we're now seeing a lot (possibly a majority) of bearish commentary. The client sentiment indicator on our platform is split, with 60% of our client base long and 40% short.
This division of opinion is understandable. Things seem to be in a state of flux, particularly with the potential for the US Fed to begin tapering or reducing its asset purchase program.
While I'm oversimplifying, the core of the bearish scenario is that the Aussie will continue to decline as capital inflows to fund mining investment dry up. If commodity prices weaken, as supply increases and demand growth moderates, the rest of the Australian economy looks pretty uncompetitive with the Aussie at current levels. Weakness might be most pronounced against  $US as ongoing resilience by the private sector sees better than expected US economic growth and the Fed begins to reduce its QE program sooner rather than later.
The bullish scenario says talk of Central Bank stimulus ending is premature. The Fed program will remain in place for some time; the Bank of Japan; Bank of England and ECB may have more to do. Commodity exports hold up as volumes continue to improve with China's growth rate levelling out and prices declining only moderately. Recent signs of domestic economic improvement like retail sales and yesterday's home loans growth will keep the RBA from cutting rates too much further.  Investors will still be chasing yield around the world.  Under this scenario, the Aussie continues to look better than most for a while yet.
Readers will have their own views on this. Frankly mine is fairly undecided. While the bearish scenario seems likely over the long term, there looks at least a reasonable risk of it being a bit early yet for it to really get underway in earnest. Just because the Fed has a plan to reduce QE doesn't necessarily mean they are about to use it. Ben Bernanke and Janet Yellen appear to be calling the shots on the Fed and it seem pretty clear that QE will remain in place until the rate of economic growth improves significantly from current levels.
Can the Charts Help?
The charts might help provide some clues on which of these scenarios the weight of money gets behind.
There's a case to say that the Aussie is hit a key support level around  .9820.9870 last night
This price zone has a few things going for it
The solid blue support line that has already been respected at "a" and "c"

The long term 200 week moving average and

A Fibonacci extension level. This projects that the move from "d" down to "e" will be 61.8% of the size of the move from "b" to "c". This level is just under the support line at around .9837 (see dashed green Fib extension)
Weekly Chart
AUDUSD CFD - Weekly. Source CMC Tracker
My general strategic preference with this sort of situation is usually to take a "what will be, will be" approach. Rather than predicting whether this support will hold and buying because it has been reached,  stand back and react to what does happen. Buy if price makes a trend trough by leaving a daily candle low close to the support zone. But look for selling opportunities if a break of the chart support leads to a bearish scenario.
Bullish Chart Scenario
If the Aussie bounces off this support zone, it creates the possibility of a bullish scenario and a buy set up.
This would leave the Aussie inside an ongoing symmetrical triangle. Being the 5th touch of the triangle boundary and the 3rd confirmation of the support gives a clue that this whole triangle might be a large correction against the major uptrend. What often happens next is a break of the triangle resistance and a move to new highs.
None of this is certain of course, but these situations provide an opportunity to buy with a relatively close stop loss compared to the pay off if a major rally develops off this support zone. If a trend trough is formed here (a candle low surrounded by candles with higher lows and followed by a candle with a higher high), a typical approach would be to put a stop sell order just under that trough.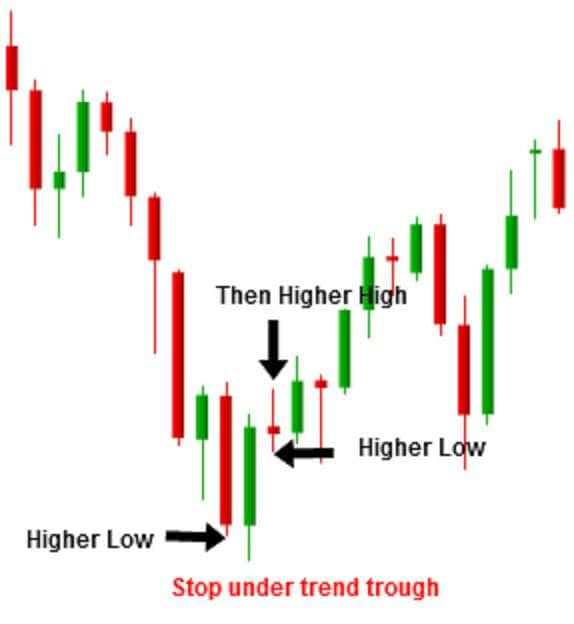 Although, I've used a weekly chart of the Aussie in this article to show a long term perspective, most traders would use shorter term charts e.g. the daily to identify trend troughs and set trading strategies
Bearish Chart Scenario
If the Aussie breaks clearly below the support line, this creates the possibility of a deeper downward correction.
If that happens soon the Aussie may be starting to get oversold by then (see slow stochastic under the chart). In these circumstances, contrarian traders may prefer to wait and look for chances to sell into corrective rallies rather than just join the downtrend on the first break of support.
In this bearish scenario, the dashed blue support line at "a" (around 94c) might become a key level for the future. A move below this would also represent an "overlap" below the major 2009 peaks. This could be a sign of long term weakness.
In the meantime there is an intermediate support just under 96c represented by the old low at "c".