The rally off the August low looks like a 5 swing structure for both Aussie: US and Aussie: CAD. For good measure, the Aussie hits Fibonacci levels against both these pairs. This could indicate a significant turning point if there is a trend high in the near future
Aussie:US hits Fibonacci levels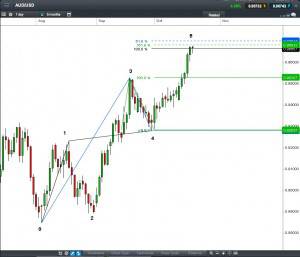 AUDUSD CFD Daily
Click to Enlarge
I've put a 5 swing label on the rally from the .8848 low in August.
The current Fibonacci cluster consists of 3 projections that the swing from "4" to "5" will be:
The same size (100%) of the swing from "0" to "1"
161.8% of the correction from "3" back to "4" and
61.8% as long as the swing from "0" up to "3".
If price does happen to make a trend peak at or very close to this cluster level, we could be in for a correction of the whole rally from .8848.
Aussie: CAD break out trade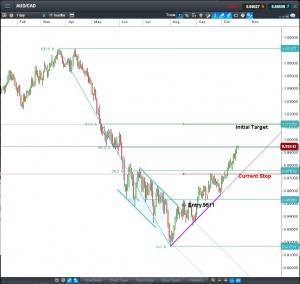 AUDCAD CFD Daily
Before I get on to the Fib projections in Aussie:CAD, I thought this would be an opportunity to outline progress on the channel  break buy set up I posted back on 15 August.
The buy entry and initial target on the chart are as outlined in that post. The buy strategy involved a stop entry order placed above the trend channel resistance while the initial target used the 61.8% Fibonacci retracement of the major decline.
The profit objective has not been hit but the stop loss has been moved behind the last major peak and trend line support to protect profits
If there is a sell set up here using the 5 wave cluster, traders using both this  strategy and the channel break out might now sell to not only take profit on the long position but also to reverse with a new short position looking for a correction of the 5 swing advance.
Aussie CAD hits Fibonacci levels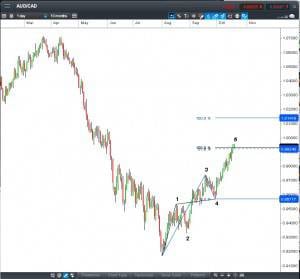 AUDCAD CFD Daily
For this chart, the Fibonacci cluster consists of projections that the swing from "4" to "5" will be:
The same size (100%) of the swing up to "1" and
61.8% of the swing from 0-3.
In this case price has already moved a little above the cluster, but for my money, a trend peak below about .9990 would be close enough.
With both these potential sell set ups, one approach to entry strategy is only to sell if we actually get a trend peak near the cluster. Trend peak means a completed daily candle with a lower high followed by a lower low. Some will wait for a close under the low of the candle making the trend peak.