A re-pricing of a May interest rate cut in Australia and a bout of USD strength pushed AUD/USD higher last week. Given the long term downtrend, and the potential for US data this week to turn the USD, traders may see this as an opportunity. A two step selling approach can lower risk until the direction of AUD/USD becomes clearer.
In the US this week markets will see GDP growth, housing data and personal spending numbers, as well as hearing from the FOMC. Any one of these could trigger a USD resurgence - or add to the weakness. Current price action offers traders an opportunity to scale into a short, ultimately looking for AUD/USD to re-test the lows around 0.7540.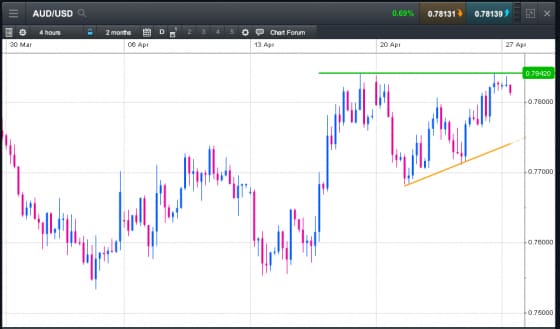 The repeated failures near 0.7842 offer a clear stop loss level for traders selling at current market. If the pair continues to fall, traders may add to shorts by selling on a trend line breach - currently around 0.7740.
The support levels are also fairly solid, and its possible AUD/USD will trade the range before eventually breaking - meaning there may be multiple opportunities to trade, bank and repeat.