The low in the Aussie Dollar found the base for a potential 3 drives to a low pattern. This comes at a time when the Dollar Index is shaping up for a possible test of wedge support
3 Drives to a Low Pattern
This pattern consists of 3 relatively evenly spaced drives to a low
In its ideal form, the pattern includes
An AB=CD pattern. (If CD is not the same size as AB it might be 1.27 or 1.618 times the length of AB)

AB is often a 1.27 expansion of 1 to A

The retracement to C often hits a Fibonacci number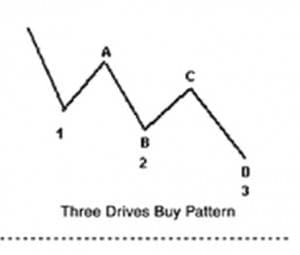 Source: Larry Pesavento
Trade What You See: How to profit from pattern recognition
AUD/USD 3 Drives to a low
If yesterday's low turns out to be a the end of a short term trend then the AUD/USD will have completed an exact AB=CD pattern. This would be positioned to be the final leg in a 3 drives to a low pattern.
Another clue about this pattern's credentials is that AB is a 127% expansion of X/A. You can do this calculation by using the Fibonacci tool and editing it to add the 127% value. An expansion is basically a retracement that goes past the 100% level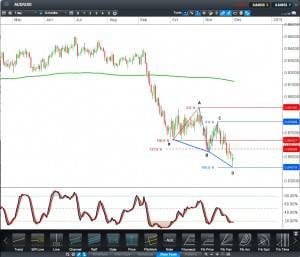 AUDUSD CFD Daily
Click to Enlarge
AUDUSD pattern base
For big picture traders operating with daily charts, one approach to this situation is to wait for signs that the market is actually rejecting the AB=CD level. A classic approach to this is is to wait for the short term trend to change. i.e for daily candles to start making higher lows and higher highs. As things currently stand, a move above yesterday's high would be a sign that this might be starting to happen. If it doesn't there is no rejection and no set up.
For traders using a scaled approach to exit strategy where part profit is taken at different levels or an approach of moving stops once possible resistance levels are met: some points of interest on the current market landscape include:
A 61.8% retracement of the 3 drives pattern itself. The 55 day moving average (blue line) coincides with this

A 38.2% retracement of the whole move down from .95

A 61.8% retracement of the whole move down from .95 . The 200 day moving average (green line) is also close to this level
Dollar Index Wedge Pattern
The Dollar Index has formed into a rising wedge pattern. From here,a clear break below the wedge support would be a sign of weakness. In these circumstances a corrective rally in the Aussie Dollar could be as much about $US weakness as about Aussie strength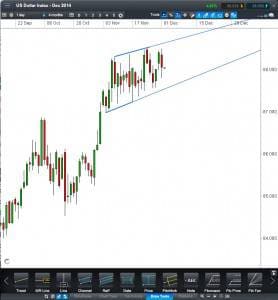 US Dollar Dec 14 CFD Daily
Click to Enlarge