The Aussie Dollar looks to be in the early stages of what may turn out to be a double top formation this morning.
Those using Bollinger Bands to identify early entry opportunities may get an opportunity to enter with the objective of a short term pullback in the region of 30-50 pips.
I've outlined how this type of strategic approach may work in the 1 hour chart below.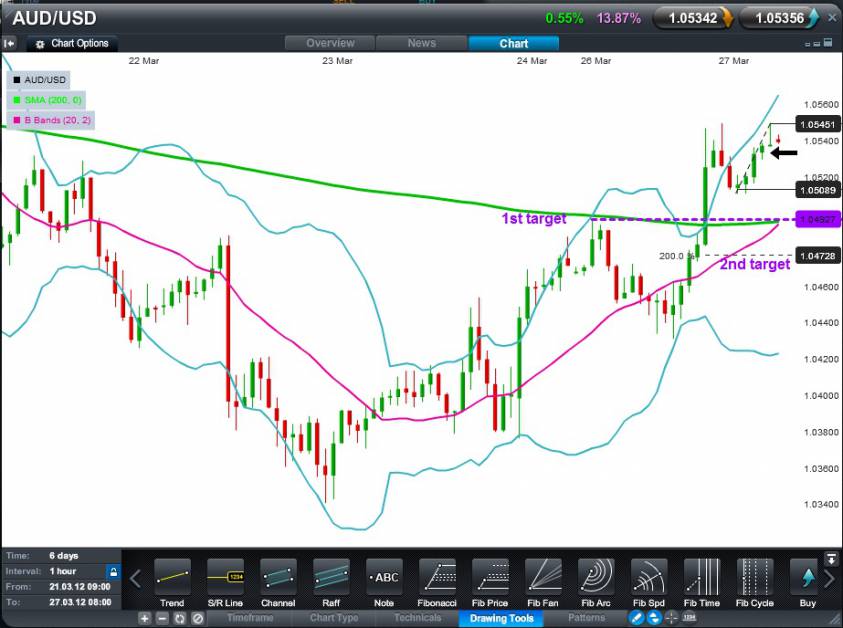 The entry set up here is a double top like formation in which the 2nd peak is made under the upper Bollinger Band while the first one is above the Band. Entry would be on a move or close below the low of the candle making the peak.
An initial stop could be placed behind the 2nd trend peak. If price breaks out to the downside of the double bottom, the stop could be moved down to a support level within the pattern. If this happens the risk on the trade would likely be reduced to something around the breakeven level.
The first profit objective shown on this chart is at around the 1.0493 area. There's a lot going on at this level at the moment. Both the 200 period moving average (green line) and 20 period average (red line) currently intersect here. Support from the previous peak (dashed line) is also at this level.
The 2nd target projects the height of the double top pattern from the lowest point of the pattern. This technique is often referred to as the "measuring rule" and reflects the fact that the move out of a reversal pattern is often the same size as the pattern itself.
One approach to these split profit objectives is to buy back half the position at each level. Another is to change to a trailing stop when price hits the first target with the objective of running the whole position down to the 2nd target.
Cheers
Ric