This weekend the New Zealand All Blacks play the Australian Wallabies in the final match of the Rugby World Cup 2015. These teams between them trampled the cream of European Rugby (sell EUR, sell GBP), and the might of the USA, South Africa and Japan (sell USD, ZAR, JPY). Now, the fate of AUD/NZD may be tied to the result of the final encounter as it trades at an inflection point.
While sporting contests may not drive economics in other areas, games of physical skill enjoy elevated status in the southern hemisphere. Ostensibly friendly, the rivalry between these neighbouring nations is deep and bitter. The major sports are Rugby League, Rugby Union, netball and cricket. Australia's much larger population means dominance in most sporting codes – with the glaring exception of Rugby Union (or "rugby").
The RWC is played every four years, and this is the eighth tournament. Australia and NZ have each won two cups. Importantly, despite the fact these are the two most successful teams in the history of the RWC, they have never before met in a final.
Improving dairy prices are supporting the Kiwi, and weak metals prices and speculation around potential interest rate cuts by the RBA are also weighing on the pair: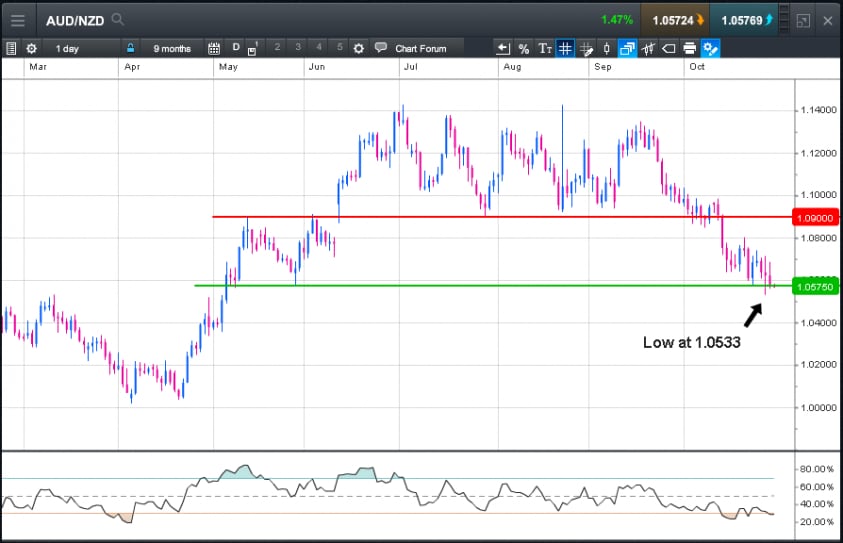 However, the chart shows the downward pressure has AUD/NZD at an important support level. Two scenarios come to mind – a plunge through support, or a bounce into a sideways trading range. National sentiment is burning brightly in both countries at the moment, but victory or defeat will be taken to heart.
Aussie supporters could be buying at current levels ahead of the game, with a stop loss below the spike low at 1.0533, with a view towards trading to the top of the range around 1.0900. Kiwi supporters are faced with a tough choice. Clearly, a preferred approach could be selling at 1.0530, with a stop loss around 1.0555, and a target close to the lows just above 1.0000. But a NZ victory could see a gap lower at Monday's opening, meaning potentially missing the trade.