Australians and New Zealanders share a special love/hate relationship, and at the moment there's a lot of trans-Tasman Sea chat about the potential for a parity party. In Auckland and Wellington, they're chilling the champagne in anticipation of Kiwi strength taking the pair to levels not seen since 1997. NZ's high quality agricultural exports and superior economic growth are outperforming Australia's mining related downdraft. An interest rate cut this month from the Reserve Bank of Australia added weight to the established down trend.
Now, there's a neat technical set up for traders: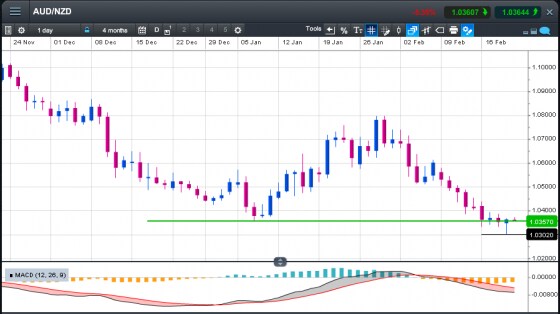 Source: CMC Markets Next Generation Trading Platform
AUD/NZD touched 1.0357 in January, and has now reverted to the level. Although it has breached this single point low every day this week, it is yet to move s9olidly below this level, despite looking fragile.  The MACD remains below zero, and has narrowed only slightly, possibly pointing to further negative momentum.
Selling on a breach of the week low at 1.0302 (say 1.0295) with a stop loss above 1.0357 could have traders targeting 1.000 – and the parity party.