The RBNZ Governor told Parliament this week that the bank will implement macro prudential tools to cool the Auckland housing market. This is seen by some as a sign that an interest rate cut is coming at its next meeting on June 11. However, the NZD has weakened since the RBNZ signaled a change of stance at its April meeting, and the first interest rate cut may already be priced: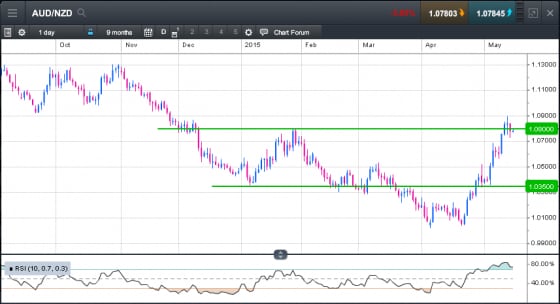 Although there is no divergence between the pair and the RSI, the indicator remains in overbought territory. Combined with a failure below the 1.08 resistance, after what may be a false break, traders could look at selling AUD/NZD at current levels with a stop loss order around 1.0820. More conservative or longer term traders may place their stop above the recent high at 1.0900.
The ultimate target here is the support around 1.0350, but there is an interim target around 1.0525 (not shown).
Although this technically based short may go against the fundamentals of a weakening interest rate environment, there are longer term fundamental drivers aligned with a sell trade. The outlook for Australia's mining based exports is at best subdued, but Asian demographics suggest that NZ's food exports will remain highly sought.
In other words, the "parity party" is delayed, not cancelled.