Commodity prices are weighing on currencies of significant producers, such as CAD, NOK, NZD and AUD. However, not all commodities are the same, and more subtle FX traders may look for exposure to particular commodity groups via the relevant currency pairs. Those expecting agricultural commodities to outperform metals and energy could have AUD/NZD on their radar.
The longer term down trend in AUD/NZD snapped in Q1 this year when the RBNZ backed away from its tightening bias. The subsequent spike moved the Kiwi more than 14% away from parity with the Aussie. The current global market focus on China may have reminded currency traders that the long term trend away from industrialisation towards a consumer lead economy clearly favours NZD: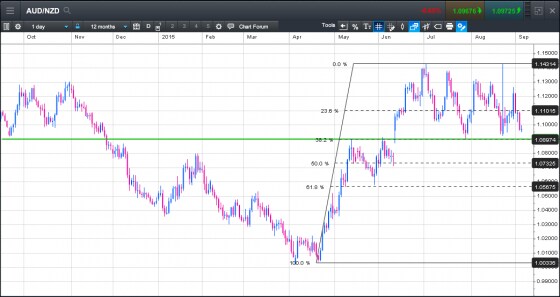 The 1.0900 level is a long term support and resistance point – curious traders may check the weekly and monthly charts. It also coincides with the 38.2% retracement of the rally from parity, adding to its significance. Any breach at this level could signal a plummet to come.
Traders could consider a stop entry order, selling at 1.0890 with a stop loss above1.1000. The ultimate target is 1.0000, but the pair is unlikely to make a beeline to it, and traders may consider a trailing stop loss order around 110 points away as a means to protect profits against any reversal on the way.