Despite the wishes of RBA Governor Glenn Stevens, the AUD continues to defy gravity. Lower commodity prices should see lower terms of trade, and a lower Aussie, yet the currency continues to frustrate short sellers. Eventually, USD strength as stimulus is withdrawn should see a lower AUD/USD. But the AUD/JPY chart is telling a different story.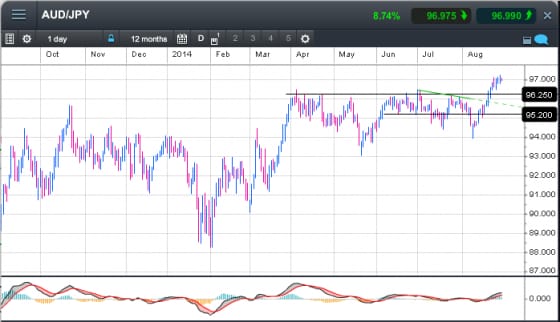 The pair has broken out of the trading range capped by 96.25, with the MACD indicating positive momentum. This is the highest level for AUD/JPY for more than a year. Further attempts to push the monetary policy lever in Tokyo could see further gains.
Traders may consider two potential trades. Any pullback towards 96.25 would be optimal. Buying around 96.40 with a stop below 96.25 could offer a higher reward to risk ratio if this turns out to be the start of a longer term trend. Alternatively, a 1,2,3 entry is available on any trading up through the recent high at 97.26, setting a stop loss below that point and using a trailing stop loss order in an effort to maximise profits.