The AUD/CAD is a useful sentiment indicator for the respective currencies.
Both AUD and CAD serve similar populations, similar geographies. Both are exposed to commodity prices. When they move, it may reflect shifting sentiment, and right now the pair could be turning the corner.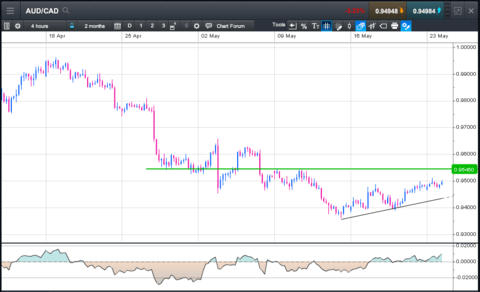 The four hour chart shows an emerging up trend, and there is a clear line in the sand overhead at 0.9545.
A breach of this level could confirm the turn currently evident on the 20 period momentum indicator at the bottom of the chart. This could be a trade in itself. However, combined with other AUD charts (see "on alert in AUD/JPY") it looks as if AUD may be strengthening.
This is particularly impressive in the face of weaker iron ore prices, as this commodity makes up almost 50% of Australian exports.
A stronger AUD may cause angst in the boardroom of the RBA, but could also be a useful development for traders.