[polldaddy poll=6691761]
Rather than rattling on with the same old set of indicators for you I thought that today I would introduce you to a couple that you may well have heard of but have not used previously - the CCI and the ROC.
The CCI (Commodity Channel Index) can be defined as follows - "is a price momentum indicator that measures a security price's variance from its statistical mean. It is commonly considered useful in determining the beginning and the end of a trend." Further "when the index moves beyond this range (+/-100), it suggests that the movements are no longer random, which creates trading opportunities."
This quote was taken from Technical Analysis of Stocks & Commodities V.21:7 (20-27).
Take a look at the chart below and we can start to put this to use: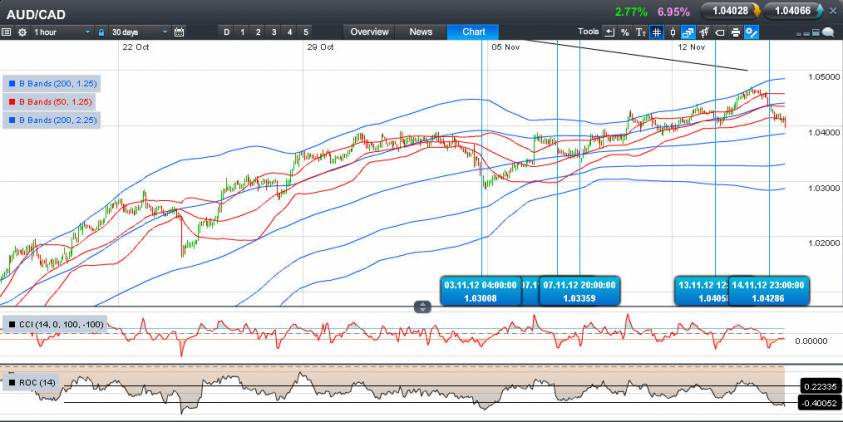 What I have done is marked some vertical lines at points where the CCI has formed a trough. What you can see is that the CCI is often quite good at preempting turning points in the price. Irritatingly, it's not 100% accurate but what can you do?
The other indicator I have shown there is the Rate of Change (ROC) which is much more simple. Again though you can see that a slowing the ROC is often a precursor of a shift in direction. The 2 parallel lines that I drew are an attempt to show when this is happening at extreme levels because this can help us see the turns of the major peaks and troughs and not just the market noise.
All of this leads us to where the price is now. We are within earshot of the 200 hour moving average at the moment so this will be a key point to look out for. If prices get that low and are still sending good signals on the indicator front it may make for a good risk reward opportunity. Be sure to keep in mind where we stand on the daily though because there may be some significant resistance ahead.