The Aussie Dollar 4 hour chart has formed a symmetrical triangle.
This looks to me like a situation that could create 2 or three different opportunities for swing traders depending on how price breaks
4 Hour Chart - Bearish Scenario
I found this pattern using our Tracker platform's pattern recognition software.
Triangles are often approached by trading in the direction of the break out of the pattern. The bearish scenario is highlighted by the software. A break below the triangle support indicates the possibility of a deeper correction of the recent uptrend. The software indicates a possible target zone for this move with the shaded rectangle.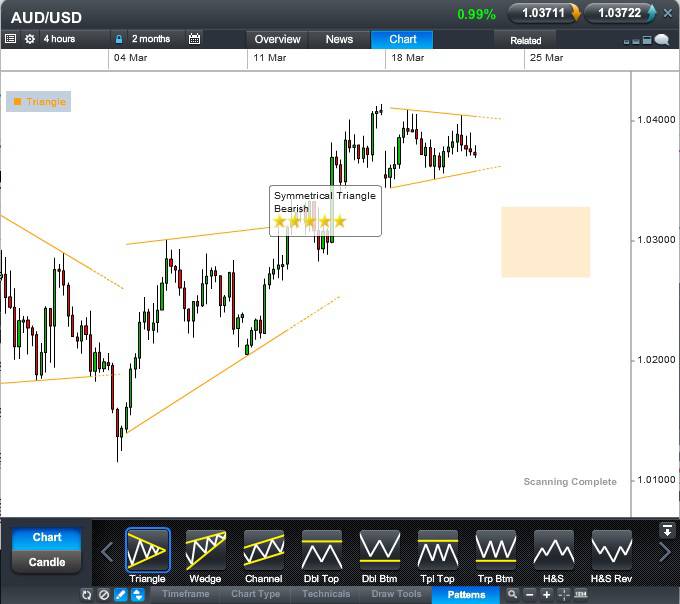 AUD: USD CFD - 4 Hour. Source: CMC Tracker
Daily Chart - Bullish Scenario
If the current correction gets no further, there's a case to say that the triangle low is the end of 4th swing in a 5 swing structure.
I've done some Fibonacci projections to suggest how far the 5th and final swing in this structure may go if price breaks to the upside. Interestingly this throws up a projection cluster just above 105c. This cluster in turn coincides with the red resistance line shown on the chart. I've cut off the early part of this resistance line for a zoomed in view but it joins the major peaks in Feb and November 2012.
The Fib cluster projects that the 4 to 5 swing will be:
The same size as the swing up to 1 and

61.8% of the swing from 0 to 3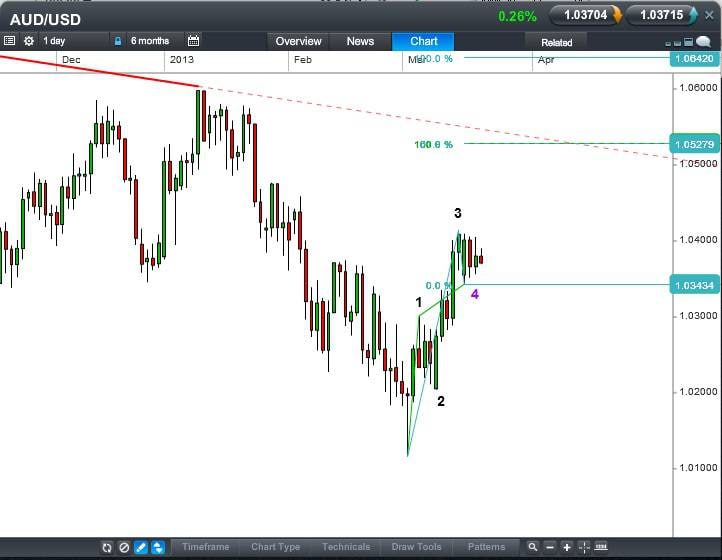 AUD: USD - Daily. Source: CMC Tracker.
Under the bullish scenario a couple of entry strategies potentially come into play:
Buying on a confirmed break through the triangle resistance or

Buying if price moves back to the triangle support line from here but bounces off it. This strategy relies on the fact that triangles often make a total of 5 touches of the support and resistance. Bouncing off the support from here would be the 5th touch and provides a logical reason to enter early in anticipation of  a break through the triangle resistance.