It was a good day for investors in iron ore stocks. This morning saw news that shipments to China from Port Hedland were up 10% last month. At the same time, the spot price is defying predictions of a decline (at least at this stage). The Tjianjin import index stood at a solid $136.80 yesterday.
This has led to an interesting situation in the chart of mining company,  Atlas Iron (ago.asx). The chart has confirmed a break above the 200 day moving average with a move past  what looks like the neck line of a bullish head and shoulder pattern. All this is happening at what could be the end of a 5 swing decline creating the potential for a decent corrective rally.
I've shown this interpretation of events on a weekly chart to provide a big picture. However, the Atlas Iron head and shoulder probably looks a bit more obvious to the eye on a daily chart.
Atlas Iron Head and Shoulder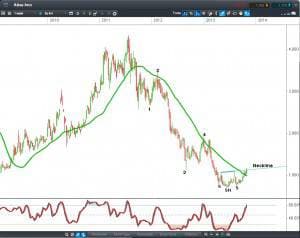 Atlas Iron Head and Shoulder - Weekly CFD
Click to enlarge
The 200 day moving average may be useful in this situation.
First, it provides additional evidence that this bullish head and shoulder could be significant.

Second it could be useful as a logical place for a stop loss  if the bullish strategy fails. When they act as valid support these long term averages tend to provide a zone of support with price often pushing a bit through the line. That logic might suggest a stop loss that allows reasonable tolerance below the average itself.