Here's something else Apple stock holders hope won't bend
Apple Support
Apple is approaching trend line support just below its 55 day moving average. It currently intersects at around $97.20, about 1.2% below Thursday's close.
This trend line might be useful when trying to assess 2 big questions – how serious is Bend-Gate and how serious is the current stock market pull back?
A clear break below support at $97.20 would start to look like a full blown correction of the rally from $70.54. Under that scenario a couple of potential supports would be the 38.2% Fibonacci retracement around $91 of the 50% retracement and 200 day moving average around $86/87.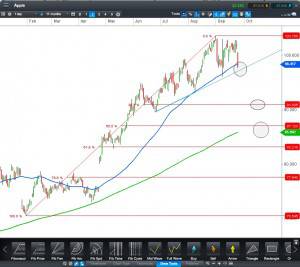 Apple CFD Daily
Clickto Enlarge
Nasdaq Double Top
Major support and resistance levels are often reached by related instruments at the same time. For traders this has the benefit of being able to pick the alternatives that provide the best risk:reward or that suit your trading style or time management requirements best.
For traders who prefer to trade an index than rather than individual stocks, it wouldn't be hard to imagine that if Apple breaks support, the US NDAQ will also close below the support of this double top formation