Apple was on the brink of destruction back in 1997 until Steve Jobs was brought back into the fold, not only to save the company, but to turn it into the money printing behemoth that has almost a cult like following today. However, since the passing of Steve Jobs in 2011, a shift towards "i" devices and away from computers (long refresh cycles, outdated technology and focus on design rather than features) combined with neglecting their most loyal customer base (creatives and developers) seems to have set the course for a potentially bumpy ride in the future.
While CEO Tim Cook is not getting tired of telling everybody about the huge innovation pipeline Apple has, the perception by many followers is that new products such as the watch or the rose gold colored iPhone are not the type of innovation they have been looking for. Are Apple's ideas becoming stale?
I'm not sure, however market movers and shakers such as Carl Icahn and other hedge fund managers have dumped shares of Apple in the first quarter of this year. However, on the other hand, Warren Buffett's Berkshire Hathaway have been buying Apple recently! It has to be said though, the Oracle of Omaha himself was quick to comment that this decision wasn't his own. Let's now take a look at the charts to see what the technical outlook is for Apple.
After hitting an all-time high of 134.54 at the end of April 2015, Apple has been in a technincal downtrend since then: on the weekly chart we can easily see the series of lower lows and lower highs.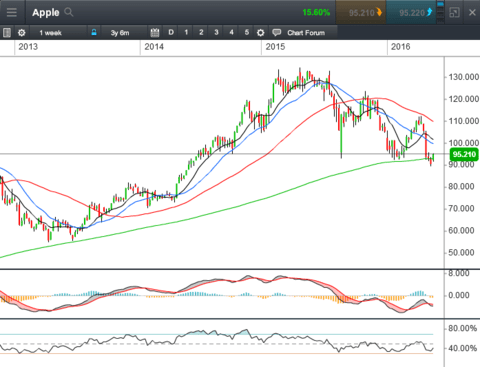 Looking at the daily chart we can see a rather choppy chart structure. Price has currently pulled back into the sell zone and a small bearish candle in the next few days might present us with a Trend Flow selling opportunity.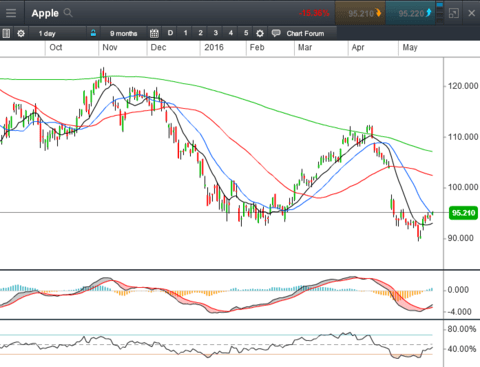 What could potential price/profit targets be for a move to the downside? Let's turn to leading indicators to see if we can get some indication by be using pivot points, Fibonacci retracements and Fibonacci extensions in my search for potential price targets on the weekly chart. I will be basing my Fibonacci studies on the lows in 2008/2009, June 2013 and the all-time high in April 2015.
On this monthly chart with just two Fibonacci retracement applied, two price levels immediately jump out: 86 and 72. Here we get clusters of both studies in close proximity.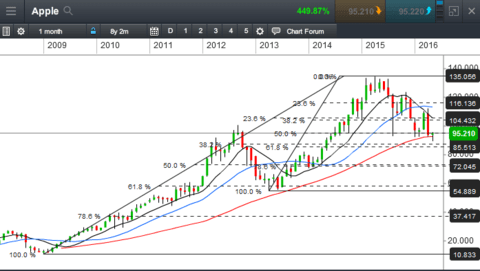 Let's have a look at the weekly chart and add some more studies and levels such as the annual pivots which I manually calculate from the High, Low and Closing price of 2015. These very long term price structures can provide some interesting levels to be on the lookout for. Check the Next Generation charts for the formulae to manually calculate yearly pivots by clicking the info button on the Pivot Points indicator.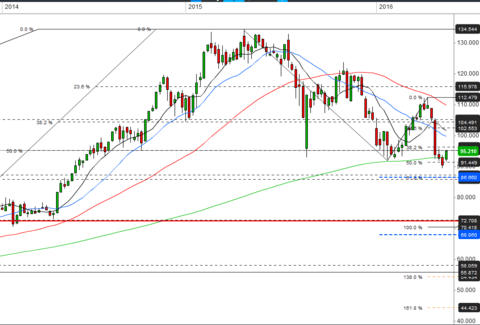 IN the chart above I have added yearly S1 and S2 pivots and a Fibonacci Extension for the recent move down. The two identified clusters have gotten further support and now look like this:
Cluster @ 86:
Yearly S1 Pivot at 86.66
2% Fib Retracement (2008/2009, April 2015)
8% Fib Retracement (June 2013, April 2015)
8% Fib Extension (April 2015, Jan 2016, April 2016
Cluster @ 72:
100% Fib Extension (April 2015, Jan 2016, April 2016)
6% Fib Retracement (Jun 2013, April 2015)
50% Fib Retracement (2008/2009, April 2015)
Yearly S2 Pivot at 68.06
As usual, in trading there can never be a guarantee for anything as it is all about probabilities. But now I know that these two levels are rather high probability targets for a potential move down. Should I get a convincing short setup in the next few days, I will be aiming for those levels and taking profit as I go.
As we can see, the techncials do support the negative press that Apple has received in 2016. So, Apple; Juice or Vinegar? You decide, however I intend to ignore the press (good and bad) and intend to plan my trade and trade my plan.