BOQ was in the news yesterday reporting that it has written off the new Customer Relationship Management System it had been piloting. More significantly, it also provided guidance that its first half cash earnings are likely to be in line with average expectations at around $362m when they are announced at the end of March.
Not surprisingly, the BOQ chart has a similar look to the NAB chart I wrote about yesterday. The BOQ MACD indicator is also showing signs of divergence with price. The black MACD line is rolling over and starting to head lower while the price chart has still been making higher highs.
The difference between this chart and NAB is that it's not as advanced. This potentially makes it more interesting from a trader's point of view. The MACD indicator has not yet provided a sell signal. This will happen if the black line crosses below its moving average (red line). It will be illustrated by the histogram bars moving below zero. At the moment they are just above (.004). So BOQ would have to close a bit lower to trigger a MACD sell signal at this stage. A close below the 10 day moving average shown on the chart would probably do the trick.
One thing to remember about indicators like the MACD is that they are calculated on closing prices. That means that you can't be sure that the MACD will stay below its signal line until you get close to the close or unless the market moves down by far enough to allow you to be confident the MACD will stay under the signal line which is a moving average of the MACD itself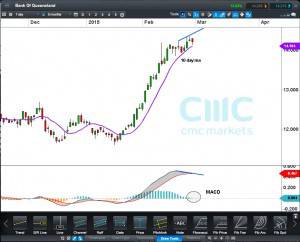 Bank of Queensland CFD Daily
Click to Enlarge