This morning, the Australian regulator (APRA) announced increased capital requirements for the big Australian banks. This led to a jump in bank share prices. Here's why.
Capital ratios explained
APRA announced that the big banks will be required to have a Common Equity Tier 1 (CET1) ratio of around 10.5%. This will come into effect no later than January 2020
This means that banks will be required to have "Tier 1" capital representing around 10.5% of their risk weighted assets (basically loans). Tier 1 Capital consists of:
Ordinary shares
Retained earnings
Specific  types of preference shares
Specific types of convertible securities.

A maximum 25% of Tier 1 capital can be hybrids (usually convertible, preference shares)
The capital ratio represents a potential cost to banks. The more shareholder equity they are required to hold to support a given level of assets, the lower will be the return on that equity unless they can pass this cost on to customers.  
The purpose of this arrangement is to ensure that the major banks have enough shareholder funds to cover problems and avoid the huge disruption to the economy that would result if one them went broke.
APRA stress tests banks' balance sheets to ensure they have enough capital to withstand a major downturn. Stress tests assume:
An 11% unemployment rate
A 40% decline in property prices
A 2year recession
These assumptions reveal how unlikely it is that the Government's so called "implied guarantee" over banks will ever have to be called on. Not only do banks have enough capital to deal with a 40% downturn in property prices but historically, problem banks have actually been taken over by others anyway.
Market reaction
At the end of March, the CET1 ratios of the big 4 banks were:
ANZ 10.1% (however, this rises to 10.5% after taking previously announced asset sales into account)
CBA 9.6%
NAB 10.1%
Westpac 10%
Analysts estimate that between them, the big banks will need to raise an additional $8bn in capital over the next 2 years. Given that they collectively have annual cash profits of around $30bn compared to dividend payments of $22bn, they should be able to raise this capital organically or via dividend reinvestment plans.
So today's rally in bank share prices reflects 2 things:
Relief that the size and timing of the extra capital levels will not require the banks to go to shareholders for new capital raisings
The introduction of certainty. APRA has made it clear that this move will cover upcoming changes to international standards. There will be no further increases to the ratios Aussie Banks are required to hold
However, this is not completely the end of the matter. There is one more hurdle for shareholders to negotiate and it could be a significant one.  
APRA is also likely to introduce changes to risk weightings on mortgages. These weightings impact the other part of this equation the assumed value of the assets the capital ratios need to support. If the risk weightings on mortgages increase, the assumed "risk value" of loans will rise. So even though the capital ratios will be fixed around 10.5%, the total $ value of equity banks need to hold will go up because the risk adjusted value of their loans has been assumed to increase.
APRA has said it will release a paper on this by the end of the year.This could also be a significant event for bank shareholders and mortgagees
NAB chart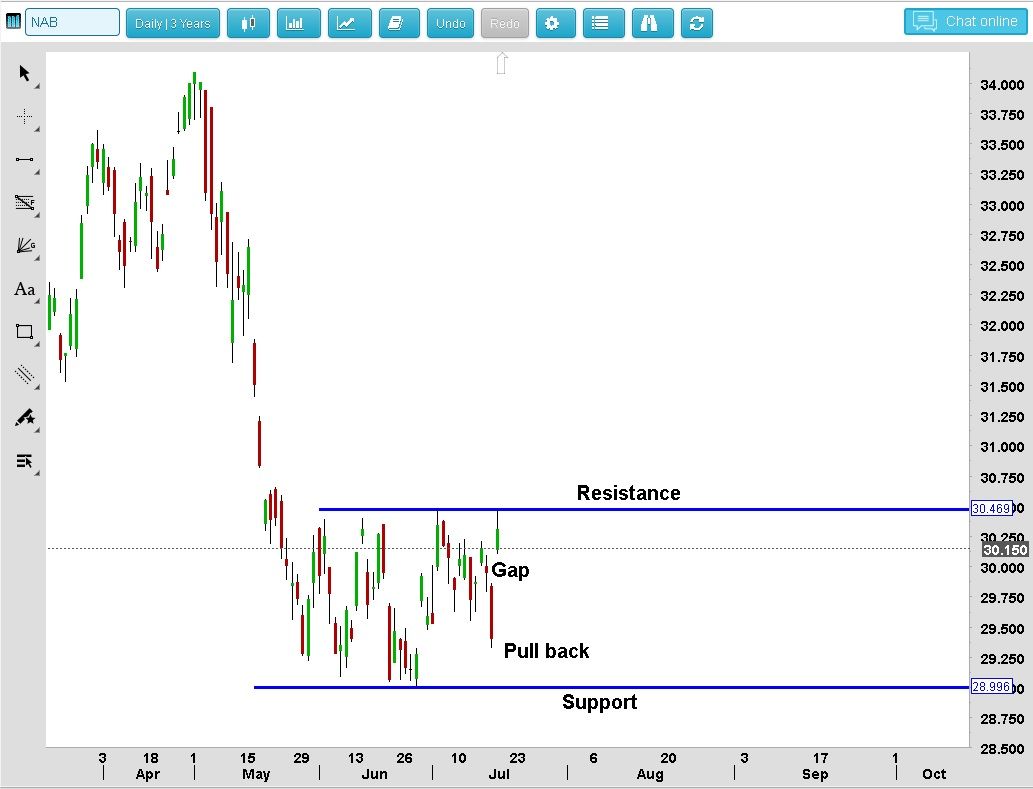 Today's price action leaves the NAB chart interestingly placed. It has returned to the top of the recent trading range after a partial pull back into the range. This can often be a positive combination.
However, if the share price moves quickly to fill this morning's price gap, the opposite will apply. Filling the gap will be a sign that price had rejected the resistance again.