Articles about FX spend a lot of time talking about central banks and interest rates. There's a reason for that. Research shows that more often than not, interest rate expectations are the key short term driver of exchange rates. Capital flows outweigh trade flows in generating FX transactions. Changes in interest rate differentials generate those capital flows, often with a big short term impact on the demand for a currency.
As with all things in markets, there are plenty of exceptions to this rule. Risk, for example, is another key market driver.  Recently, the looming Brexit vote has clearly outweighed interest rate considerations in driving some big movements in the British Pound.
On average though, Central Banks have tended to be the main game in town for FX traders in recent years. That allows for a simple but useful way of ranking major currencies. This in turn provides some useful insight into which FX pairs are likely to move the most.
The table below ranks market expectations for Central Bank rate moves between now and December 2016. The currencies at the opposite ends of this list stand a good chance of being the FX pairs that will provide the largest trading opportunities. At the moment that's NZDUSD and AUDUSD.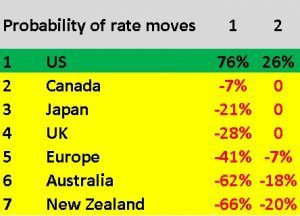 Source: Bloomberg
Central bank divergence and trading opportunity
Following Janet Yellen's statement last week and some pretty solid US economic data in recent days, the market is now pricing a 76% probability of at least one Fed rate hike by the end of the year. The probability of 2 hikes is 26%.
Australia and New Zealand are at the other end of the spectrum. Despite some solid economic data here this week, markets are still pricing a 66% probability that the RBA will move in the opposite direction to the Fed. The market sees a 66% probability of at least one rate cut this year and a 20% chance of two.
Divergence in central bank policy has been a key FX theme for a couple of years now. However, most had the Fed; the ECB and BOJ in mind for the big divergence theme. Few would have thought that RBA and RBNZ would have been the central banks expected to have monetary policies that will differ most with the Fed.
One of the reasons for this is that it may not make a great deal of difference what the ECB and BOJ do for a while. Whatever they do now is likely to be relatively small. Capital flows will not be greatly impacted by another 0.1% move into negative interest rates or incremental changes to QE programmes (buying a few more corporate bonds or share ETF's for example)
If this divergence continues to be priced, it's likely to drive a bearish momentum scenario for the Aussie and Kiwi. Under this scenario, they could be the currencies with the strongest, ongoing down trends against a resurgent $US.
However, the opposite also applies. The two ends of the central bank beauty parade are where there is most scope for reversal if markets start to change their mind on rates. Wednesday's quick rally in the Aussie after surprisingly good GDP data is an example.
For me, this means that I have AUDUSD and NZDUSD as the currency pairs I see as most likely to have strong trends and good trading opportunities.
As things currently stand, I have a big picture bearish stance for Aussie and Kiwi against all the other major currencies based on the market's current central bank ranking
Ideally in an article like this, it feels right to leave readers with a strongly pitched and unambiguous market view. Realistically though, I think the current situation is pretty finely balanced. I am very alert to the contrarian bullish reversal possibility with both the Aussie and Kiwi. Some pretty solid domestic economic data this week has increased my resolve to be nimble in assessing both the chart and fundamental outlooks for these currencies.