Packaging group Amcor ranks as a success story among Australian companies that own and operate international businesses. With most of its profit earned offshore, Amcor will benefit from a weaker Aussie Dollar.
As the Amcor chart below shows, only 5% of its sales are generated in Australia and New Zealand. It's largest currency exposures are to the $US and Euro. From this year on, Amcor will be reporting its results in $US. This doesn't change the fact that for local shareholders, the $A value of its profits is larger when the Aussie falls against the $US and Eurodollar.
Amcor's earnings are also relatively defensive. Most of the products it produces packaging for are consumer staples. The split is food and beverages 65%; healthcare 14% and tobacco 15%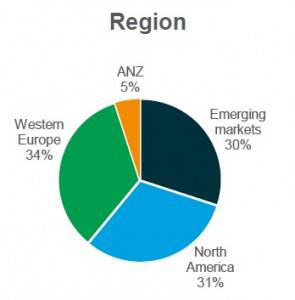 Amcor Sales by Region F13
Source: Amcor Investor Presentation
The company's  latest profit result was well received and saw a quick, near vertical price rise that peaked at $11.54. Since then it has gone ex dividend and formed a downward sloping flag formation that might interest chart traders.
A break through the resistance line of this pattern might now be a bullish development.  Price flirted with a break out this morning but failed to get convincingly clear of resistance and is weakening back into the body of the flag pattern as I post this blog.
Traders looking for better value and risk: reward might be hoping for another return to supports around the 38.2% retracement level or the lower channel trend line to provide an entry point for a buy set up.
Amcor chart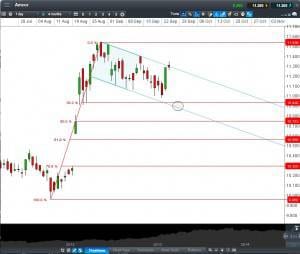 Amcor CFD Daily
Click to Enlarge