It has been a tough time for US technology IPOs with King Digital stumbling out of the gate, and Twitter going into full retreat, reversing a strong start. This has occurred as part of a broader correction in high flying, high value momentum plays with companies like Facebook and Tesla Motors also retreating in recent months.
With the huge Alibaba IPO on the way, and Twitter's first annual meeting coming up, this appears to be a good time to take stock of trading in recent IPOs, and what this could mean for the future.
Post-debut trading trends for new technology stocks
Analysis of previous technology and social media IPOs with high public profiles over the last ten years shows that while shares have often gotten off to a strong start (even Facebook briefly traded above its IPO price on the first day) initial gains and enthusiasm are not usually sustainable for a number of reasons.
First, there is a lot of attention paid to opening day from the media and fans that then drop off. Once leftover demand from the IPO is filled, it becomes another of thousands of stocks available for trading.
Second, there is a quiet period for research following IPOs. Analysts with firms that underwrite the IPO are prohibited by regulation to publish research on the IPO company for a specific number of days following an IPO. This tends to take the wind out of a new stock's sails for a while until the blackout ends and brokers/analysts are able to get out and drum up interest again.
Third, IPOs are about imagination and projections but trading is about results. Once in the marketplace, a new stock has to report earnings and sales just like existing stocks and needs to deliver on expectations. A heavily hyped and high priced IPO or a big spike in initial trading may create extremely high expectations, raising the risk of disappointment when cold, hard numbers start to come out.
Fourth, the problem is that IPOs are usually undertaken to raise money for new initiatives that can take a while to be implemented and become profitable. This can lead to disappointment with the first few earnings reports. With Facebook, for instance, it took over a year for its mobile advertising offering to really take off, at which point the shares doubled in less than three months.
Fifth, throughout the first year of trading, the supply of shares steadily increases as shares that had been held when it was a private company come out of lockup, which can weigh on the market at different points in time. It's not just private shareholder selling that is the issue. An increase in free trading shares outstanding also makes more stock available for short sellers to borrow.
Because of these factors, after an initial flurry of activity on their debut, high profile technology names have then tended to go through a lull period where they drop back in price.
It takes time for companies new to the markets to build a track record, so trading in the days following an IPO can be particularly volatile and can create opportunities to profit from moves in both directions. Eventually, trading tends to be driven by company performance and broad market conditions, just as for more established stocks.
Recent trading in Twitter and King Digital Entertainment is a classic example of how some of these factors impact post-IPO trading.
Twitter IPO update
Twitter's management tried really hard to avoid the mistakes made by Facebook, leaving money on the table for post-IPO trading and listing on a different exchange. Traders responded positively at first to the IPO, driving it to a big opening day gain and a second big rally in December.
Since the start of 2014 however, reality has set in and Twitter has been falling back to Earth. It's first two earnings reports were followed by big selloffs as traders took profits against the news, realizing that results couldn't justify the valuation when compared with other opportunities. More recently, the release of 480 million shares from lockup drove the shares down not only from profit-takers but short-sellers.
To date, Twitter remains above its $26.00 IPO price but as we shall see later, there remains a risk that the stock could go under water in the coming months.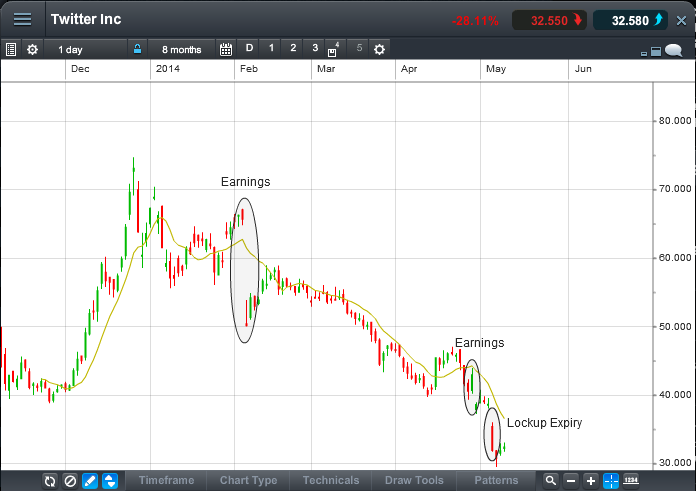 King Digital Entertainment IPO update
King Digital, producer of Candy Crush and other games, struggled out of the gate. One of its best days to date as a public company was the day that the research blackouts were lifted and analysts started publishing and talking to clients about the stock. Unfortunately, the gains were short lived as they were overshadowed by the negative reaction to King's first earnings report.
Performance of previous high profile technology IPOs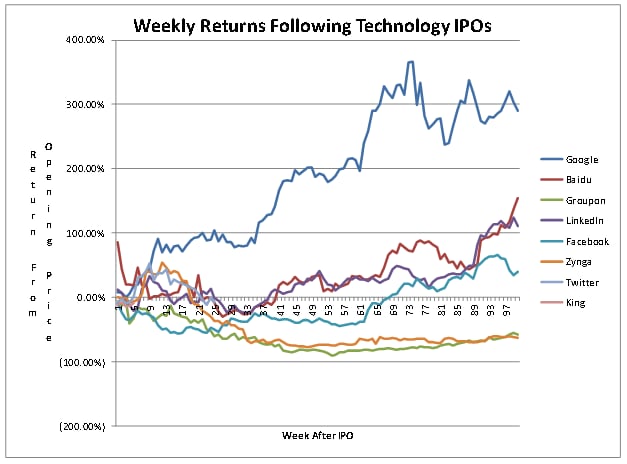 The chart above shows that there have been significant differences in performance among technology IPOs in their first 100 weeks (two years) of trading.
Google has been the gold standard, consistently trading above its IPO price through the first two years. Even with this superior performance, after an initial rally, the shares consolidated and went sideways for several months before resuming their uptrend.
LinkedIn and Baidu appear to be the middle of the road cases, starting out steady, dropping back under their IPO price for a while, and then steadily climbing after about eight months of trading.
Groupon and Zynga represent the worst case, companies that fell in the months following their IPOs and never recovering. Facebook's performance was somewhere between LinkedIn and Groupon. Its debut was not impressive and it spent nearly all of its first year of trading under its IPO price. In the second year, however, it finally caught fire with traders. Even following a recent correction in momentum stocks, Facebook continues to trade above its IPO price.
Twitter's performance to date has been closest to Zynga's, in that it had an early rally but then rolled over and started trading below its opening day price. Its current performance is similar to LinkedIn, but it remains to be seen which path will prevail from here.
How a stock performs on its opening day gives an indication of how well underwriters performed on pricing the deal. A big opening day means the deal was underpriced, a poor open suggests the deal was overpriced. Google traded essentially flat on its opening day in 2004 and steadily gained steam from there.
It's important for traders to realize that opening day or even opening week success does not necessarily mean anything about the future prospects of the stock. Regardless of how they started out, all of the other companies studied traded below their opening day price within 6 to 8 months.
A particularly strong opening may only raise the risk of a deeper correction later as we saw with Baidu, Zynga and possibly now Twitter. On the other hand, King's soft debut could scare off potential traders as we saw with Facebook and Groupon.
Is Alibaba doomed to repeat the same trading cycle?
In the coming weeks, Chinese internet giant Alibaba is expected to complete an IPO and start trading in the US. Alibaba's IPO is a bit different and because of this, trading after the IPO could be a bit different as well.
Part of the reason that stocks often have problems in the months following an IPO is that they have no previous track record in the market, so just as managements are getting used to being a public company, traders are still working out how to value them and their growth. One of the uncertainties surrounding Twitter for example, has been the conflicting signals from management over which are the best indicators to analyze the company's results and outlook.
Alibaba, on the other hand, has a partial track record in the markets. Because Yahoo! owns 22% of Alibaba, a valuation of the holding and the company has been built into Yahoo!'s share price, and reports of Alibaba's progress and financial situation have been reported to the market along with Yahoo!'s results. Over the last two years, Yahoo!'s shares have dramatically outperformed their American competitors and have comparably done even better when measured against Chinese internet companies.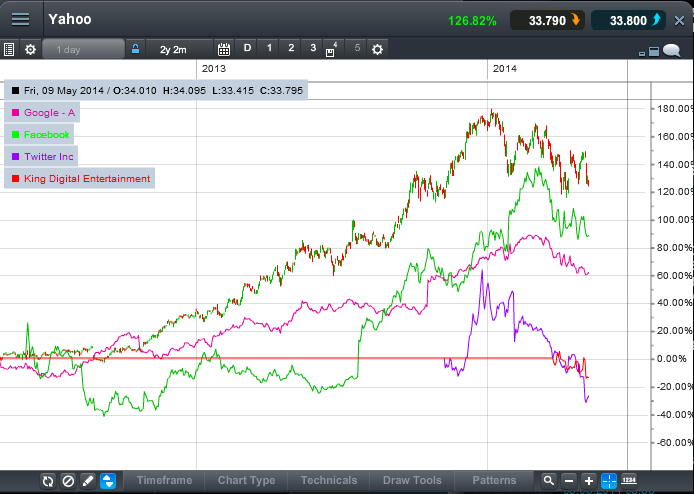 Source: CMC Markets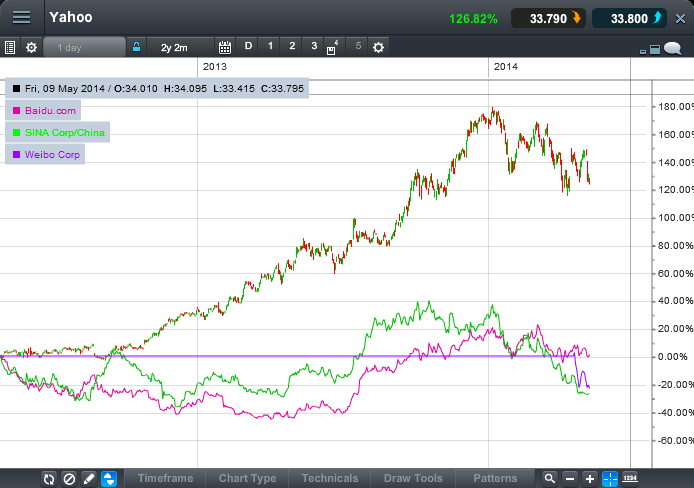 Because of this, Alibaba does not arrive in the market as a complete unknown, the street already has an idea of how to value it because traders have been valuing Yahoo!'s stake in it for years.
Given the massive size of Alibaba and its existing valuation, it may not see the same extremes that have followed other Internet IPOs. The upside may be more limited as the deal may be priced more accurately off of the Yahoo stake. Also, Alibaba is way past the start-up and initial growth stages so it's unlikely it will fall as much as companies either. In other words, it may stay closer to its IPO price with a 50%+ gain and a 50%+ drop both looking equally unlikely.