Just under two months ago Jes Staley the new CEO of Barclays announced a radical restructuring program for a bank that since the departure of previous CEO Antony Jenkins had given the impression of losing its way.
The restructuring plans included a significant retreat from some areas of its global investment banking operations including the loss of 1,000 jobs worldwide. The main focus was in Asia, including the winding up of its Australian operations, while the reports that the bank was looking to sell 62.3% of its stake in Barclays Africa, were confirmed in March.
The bank also announced it would be splitting into two divisions as part of a restructuring program and continuing to unwind its non-core assets.
The two divisions, reminiscent of a simpler structure back in the 1980's will be Barclays UK, which will be ring fenced from the rest of the group, and Barclays Corporate International, as it looks to focus on its traditional businesses of consumer and investment banking, in London and the US, where revenues, particularly in its Barclaycard divisions remain strong.
The bank also announced it would be cutting its dividend by more than half in 2016 and 2017 to help boost its capital buffer, which currently sits at the lower end of the scale relative to its peers.
As we look towards its latest Q1 trading update the share price performance still has some way to go before we see a move back into the black for the year to date, as income streams continue to come under pressure in an era where interest rates look set to go even more negative.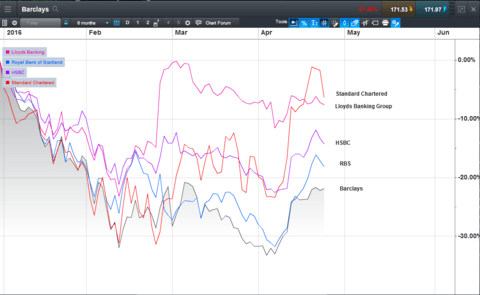 Barclays share price remains the worst performer so far this year and while its retail banking model has proved to be more resilient, last week's trading updates from its US banking peers do not bode well for its investment banking arm.
The announcements from Morgan Stanley and Goldman Sachs last week of an in excess of a 50% drop in profits as a result of declining fixed income and trading revenues could well be an arbiter of further pain for not only Barclays, but other banks with big investment trading arms like Deutsche Bank and Royal Bank of Scotland when they release their numbers this week, for a quarter that has seen a sharp rise in volatility and a yield curve that promises to get ever flatter, and more negative.
Forecasts suggest that this week's trading updates are likely to see sharp year on year falls in profits, as low interest rates and market volatility in the first quarter weigh on margins.
Royal Bank of Scotland has also continued to struggle, despite a decent rally from its April lows, and is expected to announce further losses this week. The news of yet another yearly loss saw the share price hit lows of 207p in early April before a decent rebound; however this week's trading update is unlikely to mitigate the concerns surrounding a bank that has struggled to turn a profit in recent years.
RBS is expected to post a Q1 loss of £957m, largely as a result of a £1.1bn payment to the UK treasury in respect of a golden share agreement that gave the UK government first dibs on any dividend payments. Now that the UK government no longer has this special access one obstacle to a resumption of dividend payments to shareholders has been removed, however the bank still needs to start turning a profit before that can happen.
While Lloyds Banking Group has managed to escape the worst of the declines in the banking sector this year it hasn't been immune, despite its minimal exposure to investment banking, and a much smaller government stake. With a much more domestic focus the bank has managed to outperform this year, but still remains down on the year as the UK economy has slowed in the lead-up to this summer's UK referendum vote.  The main concern remains around further PPI provisions, the number currently sits at €16bn and counting, and the hope is that this particular boil will slowly start to get lanced.
Last week the bank announced yet more job losses with plans to close another 21 branches as consumer behaviour with respect to bank branches continues to change.
The bank still remains the best positioned on the recovery front and managed to gain PRA approval to start paying dividends again a couple of years ago, however the share price has struggled to push above the 73p breakeven level, where the government could look offload its remaining 10% share in the bank.
With expectations fairly subdued surrounding this week's trading announcements it would be tempting to think that the bar is set very low, but we know from last week's US bank announcements, even with a low bar, the potential for disappointment remains quite high, with a particular focus likely to be on forward profits guidance potential, as well as further regulatory drag.
The material (whether or not it states any opinions) is for general information purposes only, and does not take into account your personal circumstances or objectives. Nothing in this material is (or should be considered to be) financial, investment or other advice on which reliance should be placed. No opinion given in the material constitutes a recommendation by CMC Markets or the author that any particular investment, security, transaction or investment strategy is suitable for any specific person.