When a change of value occurs in a currency, there is often a difference in the timing over which this adjustment gets taken into account across all of it's trading pairs.  This difference in timing is referred to as leaders and laggers and gives us a trading opportunities.  This could be happening right now across the CHF pairs.
Looking at the weekly on USDCHF, a down trend has been in place since the beginning of March as defined by the Lower Highs with accompanying Lower Lows that are marked on the chart.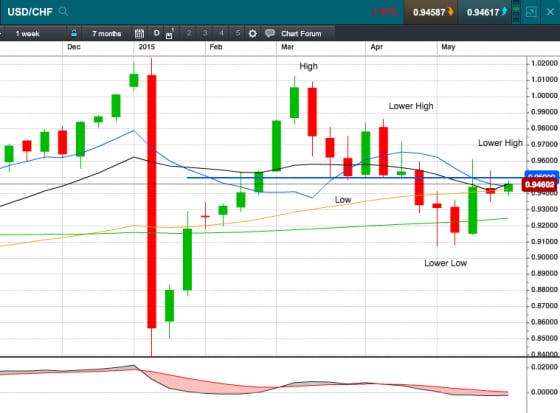 The solid blue line is the key level of .9500 and is used as a marker in the following chart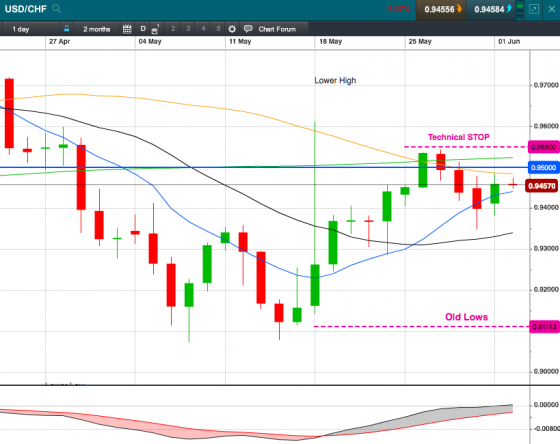 Here on the Daily chart, (the screen shot was taken earlier this week), the first phase of the breakout short now completed, with a retracement back into the resistance level, ahead of an expected move down again.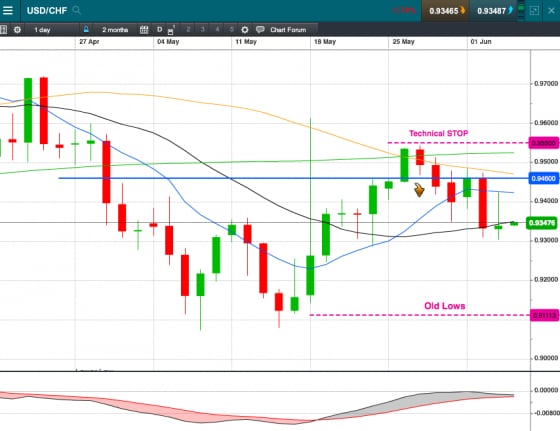 The above screen shot of the USDCHF Daily shows the subsequent drive to the short side.
We call this move a 'leader' in it's price action.  This is when we start to look across the other pairs to see if an opportunity to follow suit might be present.
Looking now at the AUDCHF on the daily we see a similar set up now occurring.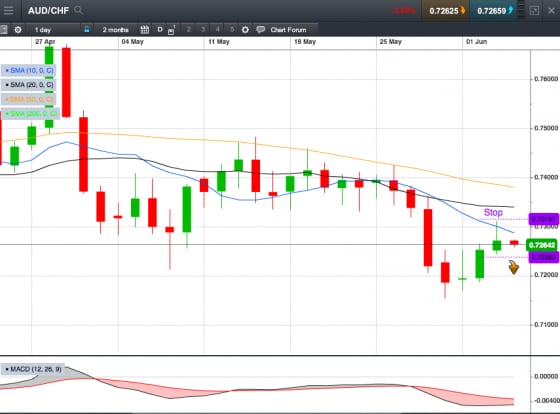 Notice how there is a small indecision candle with a rejection shadow to the top side (indicating a rejection of a move higher). The moving averages are in the correct order, open and fanning, suggesting the momentum is still to the short side.
The MACD indicator is also convergent to the short side.
If the price action follows that of the USDCHF, we could see a move to the short side on AUDCHF.  We call this a 'lagger in price action' and this could offer an entry with a tight stop tight and a good profit window down to the old lows, as indeed the USDCHF has already commenced.