Italy will hold a referendum on transforming its Senate this Sunday. If you haven't been following this situation, here's a basic primer on what it might mean for markets.
The referendum
It's a fairly complex issue but here is a very brief summary of some of the main issues:
Italy currently has two houses of parliament, the Chamber of Deputies and the Senate. Each has the same five year term and the representatives of both houses come from the same electorates.  All legislation must be passed by both houses in exactly the same form. The government must also have the confidence of both houses.
The current system makes it hard to pass legislation and has been a significant contributor to Italy's notoriously unstable governments.
The referendum proposes a Senate of Regions. Senators will be elected by Regional and Provincial Councils. The whole Senate will not dissolve and go "up for election". Instead, each senator's term will end when the term of the council that elects them ends.
Senate approval will only be necessary for laws covering specific matters. For all other matters, Senate approval is optional. The Chamber of Deputies will be able to overrule it by voting on such matters a second time
These reforms aim to make Italy's  government more stable and for legislation to be passed more easily where it has the approval of the Chamber of Deputies.
Market implications
The market's immediate concern is with the politics of the situation and the potential implications for Italy's banks rather than with the constitutional reforms.
Politics
Italy's reformist Prime Minister, Matteo Renzi has said that he will resign if there is a "no" vote. For many, this makes the referendum a plebiscite on his Prime Ministership.

A no vote and Renzi's resignation may usher in a period of political uncertainty.
More significantly for markets, it may also lead to an early election and the possibility that the populist, Euro sceptic, Five Star Movement could form government.
The Five Star Movement's policy platform includes holding a referendum on whether Italy should remain in the Eurozone
If Italy was to hold a referendum on leaving the Eurozone, it would be a major market event with potential to act as a catalyst for similar votes in other countries. However, it's by no means clear how Italy could actually leave and at  the very least it would be a long drawn out process.
Banks
A number of Italian banks need recapitalising.  They have been slow to write off debt and bolster capital following the GFC. Low economic growth and ultra-low interest rates have prevented them growing their way to financial health.
At least eight banks including Monte dei Paschi are struggling
A no vote and political uncertainty may make investors reluctant to put money into these banks due to the possibility that laws will be changed to protect depositors and other creditors, increasing the risk to shareholders.
Monte dei Paschi and Italy's largest bank UniCredit are both hoping to announce major restructures and capital raisings in December.  The UniCredit announcement is scheduled for 13 December and markets are anticipating it may seek to raise as much as €10bn.
Looking at upside possibilities a no vote might lead to Eurozone leaders taking decisive action to shore up the Italian banks in order to stop the situation spinning out of control
You might be able to help gauge the pulse on this by monitoring the charts of UniCredit and other Italian banks via our CFD platform. The stock is currently hovering at potential channel support.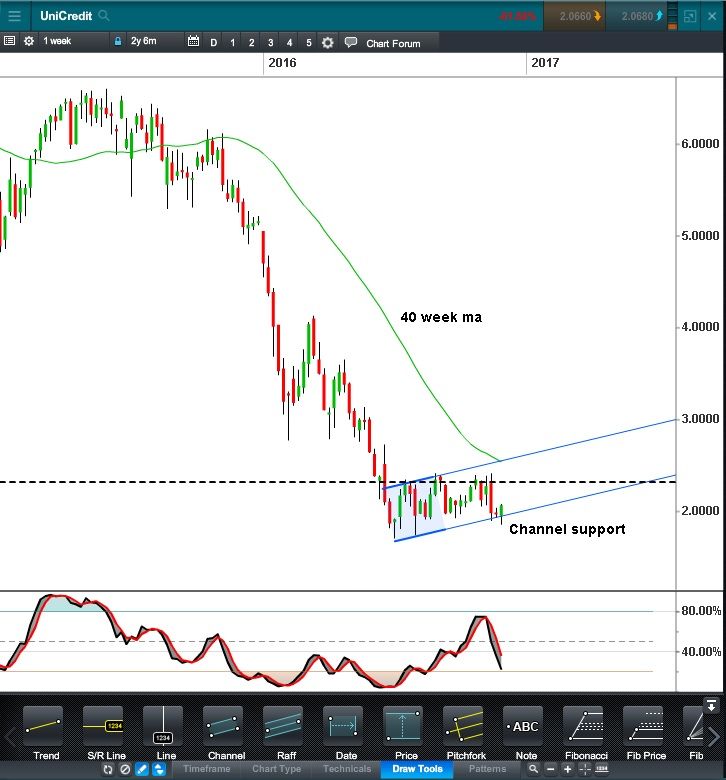 Market pricing
There has been no polling on the referendum since November 19. This indicated a no vote.
Despite this, there have not been big moves in major markets so far
It may be that markets will wait to see what happens after the vote. For example, will Renzi actually resign?
If markets do get concerned about this situation it is likely to lead to selling of stock indices like the Germany 30; selling of the Euro and buying of defensive assets like gold and the Japanese  Yen.
Germany 30 began to show signs of defensive pricing on Thursday. It's dropped below short term support confirming a fourth rejection of resistance around 10,800.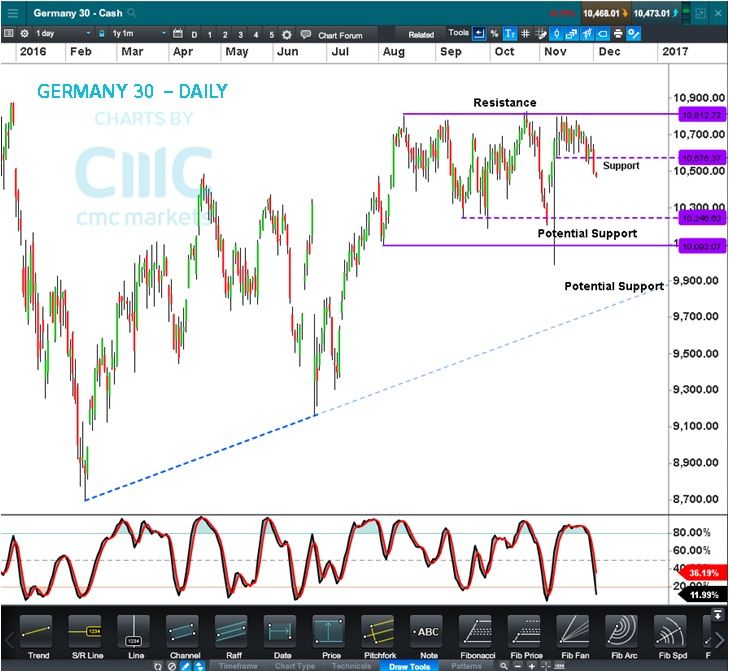 Euro: This might be a useful chart if markets are unconcerned by the election outcome. The Euro is forming a potential bullish head and shoulder pattern that would be confirmed by a break above the neck line.