The Aussie Dollar head and shoulder set up I posted before Friday's Non Farm Payroll figure is underway.  Here are some thoughts on trading strategy and details of an emerging set up in Raw Sugar
Aussie Dollar Head and Shoulder
Using the buy  stop approach outlined in my post last Friday, trade entry would have been around .9210 as outlined on the chart below.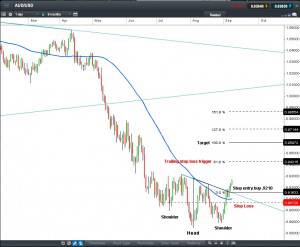 Aussie Dollar CFD
Click to Enlarge
Aussie Dollar Exit Strategies
The profit objective shown on the chart uses a standard technique of measuring the vertical height from the head to the neck line directly above it and then projecting this height from the place where price breaks through the neck line. I've used Next Gen's Fibonacci price tool to do this

The initial stop loss is placed behind support back in the body of the triangle and (for good measure) below the 50 day moving average which did a good job of defining the downtrend leading into this pattern

If price hits 61.8% of the way to the target, the stop might be changed to a trailing version to begin protecting profits.
Weekly Raw Sugar  Chart and Client Sentiment
The weekly sugar chart shows the slow stochastic now well and truly trending up after a long time kicking along the bottom during the long lasting down trend. As with the Aussie Dollar, this upward momentum in the long term chart potentially supports buy set ups in shorter term charts like the daily
Clients will be aware that our latest platform release included an update to the popular client sentiment tool.  This now updates every minute and shows the percentage of clients long and short in terms of the number of clients and the total value of positions. It also shows separate analysis for clients that have traded profitably over the past 3 months.
As you can see below, profitable clients are currently long this market.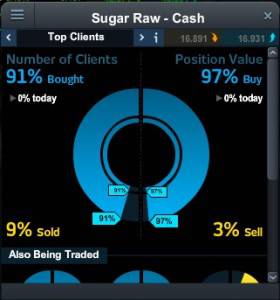 CMC Client Sentiment Tool Raw Sugar
Raw Sugar Daily
I've outlined the inverse head and shoulder pattern on the daily chart below.
As with the Aussie Dollar,  one approach to entry strategy would be to position a stop buy order for a clear break above the neck line